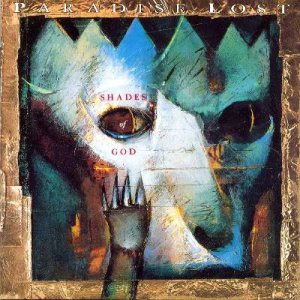 Shades of God
Reviews : 0
Comments : 0
Total votes : 0
Rating : -
Added by

Eagles
Last edited by

SludgeLeader
Shades of God Information
| | Title | Length | Rating | Votes |
| --- | --- | --- | --- | --- |
| 1. | Mortals Watch the Day | 5:12 | - | 0 |
| 2. | Crying for Eternity | 7:05 | - | 0 |
| 3. | Embraced | 4:29 | - | 0 |
| 4. | Daylight Torn | 7:53 | - | 0 |
| 5. | Pity the Sadness | 5:05 | - | 0 |
| 6. | No Forgiveness | 7:37 | - | 0 |
| 7. | Your Hand in Mine | 7:08 | - | 0 |
| 8. | The Word Made Flesh | 4:41 | - | 0 |
| 9. | As I Die | 3:46 | - | 0 |
Nick Holmes

:

Vocals

Gregory Mackintosh

:

Lead Guitar

Aaron Aedy

:

Rhythm Guitar, Acoustic Guitar

Stephen Edmondson

:

Bass

Matthew Archer

:

Drums
Guest / session musicians
Sarah Marrion

:

Vocals

Robert John Godfrey

:

Keyboards
Production staff / artist
George Chin

:

Photography

Nick Holmes

:

Lyrics

Dave McKean

:

Cover Art, Design, Illustrations

Simon Efemey

:

Engineering, Producer, Mixing

Gregor Mackintosh

:

Composing, Arrangements
Additional notes
Recorded at Longhome Studios, Northants, March/April '92.

Backcover: Printed in England, CD: Made in Austria

Co-released with Metal Blade Records.

The Japanese version contains the bonus tracks:
10. "Rape of Virtue"
11. "Death Walks Behind You"
12. "Eternal" (live)

"As I Die" was originally available only on the CD version.

Although the booklet/sleeve notes mention keyboards, they were edited out of the mix at the last minute.

A video was made for "As I Die".

Re-released in 2008 by Metal Mind Productions in Digipak format, limited to 1000 copies.

Reissued in 2011 by Peaceville Records on heavyweight semi-translucent orange vinyl, with gatefold sleeve & limited to 2000 copies. This version includes "As I Die".
Paradise Lost Discography