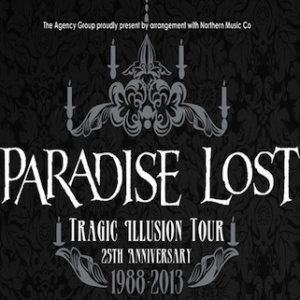 Live at the Roundhouse
Reviews : 0
Comments : 0
Total votes : 0
Rating : -
Have : 0
Want : 0
Added by

SludgeLeader
Live at the Roundhouse Information
| | Title | Length | Rating | Votes |
| --- | --- | --- | --- | --- |
| 1. | Mortals Watch the Day | 5:31 | - | 0 |
| 2. | So Much Is Lost | 4:35 | - | 0 |
| 3. | Remembrance | 3:56 | - | 0 |
| 4. | Gothic | 5:30 | - | 0 |
| 5. | Enchantment | 6:38 | - | 0 |
| 6. | Faith Divides Us - Death Unites Us | 5:13 | - | 0 |
| 7. | Tragic Idol | 4:55 | - | 0 |
| 8. | Never for the Damned | 4:59 | - | 0 |
| 9. | Isolate | 4:12 | - | 0 |
| 10. | Say Just Words | 4:16 | - | 0 |
| 11. | Rotting Misery | 6:33 | - | 0 |
| 12. | One Second | 3:57 | - | 0 |
| 13. | True Belief | 4:55 | - | 0 |
| 14. | Over the Madness | 5:35 | - | 0 |
Nick Holmes

:

Vocals

Gregor Mackintosh

:

Lead Guitar, Keyboards

Aaron Aedy

:

Rhythm Guitar

Stephen Edmondson

:

Bass

Adrian Erlandsson

:

Drums
Additional notes
Recorded at the Camden Roundhouse on November 3rd 2013, as part of their 25th anniversary 'Tragic Illusion' tour.
London Abbey Road studios did a live recording of the show to mark this very special occasion.

The album features Paradise Lost's entire set from the night and also exclusive live photos from the show.

Lacuna Coil and Katatonia were the special guests at the concert. The latter peformed "Viva Emptiness" in its entirety.
Paradise Lost Discography