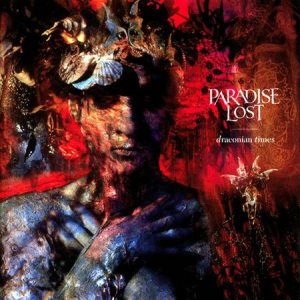 Draconian Times
| | |
| --- | --- |
| Artist | |
| Type | Studio Full-length |
| Released | 1995-06-12 |
| Genres | Gothic Metal |
| Labels | Music for Nations |
| Length | 48:55 |
Reviews : 0
Comments : 0
Total votes : 0
Rating : -
Have : 0
Want : 0
Added by

Eagles
Last edited by

SludgeLeader
Draconian Times Information
| | Title | Length | Rating | Votes |
| --- | --- | --- | --- | --- |
| 1. | Enchantment | 6:04 | 100 | 1 |
| 2. | Hallowed Land | 5:03 | 100 | 1 |
| 3. | The Last Time | 3:27 | 95 | 1 |
| 4. | Forever Failure | 4:18 | 95 | 1 |
| 5. | Once Solemn | 3:04 | 100 | 1 |
| 6. | Shadowkings | 4:42 | - | 0 |
| 7. | Elusive Cure | 3:21 | - | 0 |
| 8. | Yearn for Change | 4:19 | - | 0 |
| 9. | Shades of God | 3:55 | - | 0 |
| 10. | Hands of Reason | 3:58 | - | 0 |
| 11. | I See Your Face | 3:17 | - | 0 |
| 12. | Jaded | 3:27 | - | 0 |
Nick Holmes

:

Vocals

Gregor Mackintosh

:

Guitars (lead)

Aaron Aedy

:

Guitars (rhythm & Acoustic)

Stephen Edmondson

:

Bass

Lee Morris

:

Drums
Guest / session musicians
Andrew Holdsworth

:

Keyboards
Production staff / artist
Kevin Metcalfe

:

Mastering

Pete "Pee Wee" Coleman

:

Engineering, Mixing

Simon Efemey

:

Producer, Mixing

Holly Warburton

:

Cover Art
Additional notes
Recorded at Great Linford Manor and Ridge Farm Studios, England January-March 1995.
Mastered at Townhouse Studios, London.
Arranged by (choral) Guildford Dead Boys Choir.
Design and layout by Styleorouge.
All illustrations, photography: Holly Warburton.
Engineered by Pete Coleman.
Assistant: Andy Griffin, Phil Luff and Phil Wood.
Mastered by Kevin Metcalfe.
Mixed by Pete Coleman and Simon Efemey.
Producer: Simon Efemey.

Videos were made for "The Last Time" and "Forever Failure", however the latter is a largely different edit of the song than the one on the album.

The monologue samples on "Forever Failure" is Charles Manson, from "The man who killed the 60s" documentary.

Vinyl version originally released as a gatefold double LP.

The Japanese edtion features three bonus tracks:
13. Walk Away (The Sisters of Mercy cover)
14. Laid to Waste
15. Master of Misrule

Re-released in 2002 with added bonus tracks "How Soon Is Now" (The Smiths cover) and "Fear".

Re-released in 2008 by Metal Mind Productions in digipack format. Limited to 1000 copies.

Has also been released as a limited edition longform digipack containing one bonus CD called "Live Tracks, Demos & B-Sides" with the following tracklist:
1. Embers Fire (live) (4:27)
2. Daylight Torn (live) (7:28)
3. True Belief (live) (4:24)
4. Pity the Sadness (live) (5:15)
5. As I Die (live) (3:40)
6. Weeping Words (demo) (3:51)
7. The Last Time (demo) (3:28)
8. Walk Away (3:25)
9. Laid to Waste (3:15)
10. Master of Misrule (3:07)
11. Forever Failure (video edit) (4:45)

Also released in a black digibox version, but with one cd.

Reissued in 4th April 2011 by Sony Music as Draconian Times: Legacy Edition with 32 page hardback-book.

The album has been fully re-mastered and has 7 previously unreleased bonus tracks added. These comprise two demos from the original 1994 sessions and five live tracks recorded on the original European tour in 1995.

The second disc is a DVD and comprises a brand new 5.1 mix of the original album. Additionally, the DVD features the promo videos for the singles Forever Failure and The Last Time plus Hallowed Land (recorded live at the 1995 Dynamo Festival).

Disc 1: CD – remastered album + SEVEN previously-unreleased tracks:
13. Enchantment (Demo 1994) [5:02]
14. Last Desire (Demo 1994) [3:09]
15. Forever Failure (Live In Germany 1995) [4:20]
16. Shadow Kings (Live In Germany 1995) [4:48]
17. Once Solemn (Live In Germany 1995) [3:05]
18. Hallowed Land (Live In Germany 1995) [5:11]
19. The Last Time (Live In Germany 1995) [3:40]

Disc 2: DVD – original album mixed to 5.1 + 3 bonus promo videos:
1. Forever Failure (4.48)
2. The Last Time (3.36)
3. Hallowed Land (5.15)

Tracks 1, 2, 3, 4, 5, 6, 7, 9. 10 and 12 by Holmes & Mackintosh.
Track 8 by Holmes, Mackintosh , Edmondson & Morris
Track 11 by Holmes, Mackintosh & Aedy.
Paradise Lost Discography