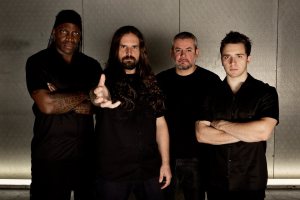 Sepultura
Paulo Jr.

:

Bass

(1984-)

Andreas Kisser

:

Guitar

(1987-)

Derrick Green

:

Vocals, Additional Guitar

(1998-)

Eloy Casagrande

:

Drums

(2011-)
Roberto "Gato" Raffan

:

Bass

(1984)

Beto Pinga

:

Drums

(1984)

Igor Cavalera

:

Drums

(1984-2006)

Cássio

:

Guitars

(1984)

Roberto UFO

:

Guitars

(1984)

Max Cavalera

:

Guitars

(1984-1985)

, Vocals, Guitars

(1985-1996)

Wagner Antichrist

:

Vocals

(1984-1985)

Jairo Tormentor

:

Guitars

(1985-1987)

Julio Cesar Vieira Franco

:

Guitars

(1985)

Jean Dolabella

:

Drums

(2006-2011)
Releases : 26 Total votes : 5 Reviews : 1
Added by

Eagles
Last edited by

realemopolice
Additional notes
The band name comes from a Portuguese translation of Motörhead's song "Dancing on Your Grave" which is "Dançando na sua Sepultura". Sepultura means "grave" in Portuguese (and in some other Latin-based languages). Originally, they wanted to call the band Tropa de Choque (Shock Troops), but found that the name had been used before.

The first Sepultura show was on December 4th, 1984. The band played two songs that never were re-recorded or released.

Line-up of the first show:
Wagner "Antichrist" - Vocals
Max "Possessed" - Guitars
Igor "Skullcrusher" - Drums

A VHS tape called "Live Reviews" was released by Roadrunner in 1992/93.

Other official releases:
Sepultura – Live Tape (18/10/85) 20 min (Self released)
Sepultura – Live Tape (19/04/86) 45 min (Self released)
Sepultura – Live Tape (19/04/85) 45 min VHS-NTSC (Self released)
Sepultura – Electronic Press Kit RT / 16:42 VHS limited edition (Epic Records / Roadrunner Records)

Sepultura played the Donington Monsters of Rock festival in England in 1996 as a three piece with Andreas Kisser on lead vocals after Max Cavalera learned about the murder of his stepson Dana Wells.

Max left Sepultura in December 1996 after the rest of the band had clashes with his wife (Dana Wells' mother) and band manager Gloria Bujnowski. He went on to form the alternative/nu metal band Soulfly.

Derrick Green, originally from Cleveland, Ohio relocated to Brazil to replace Max as vocalist. Sepultura have largely played as a single guitar band since then, though Green has occasionally played rhythm onstage.

Roy Mayorga filled-in for Igor Cavalera during the European tour with In Flames in 2006. Igor quit Sepultura permanently later the same year. The Cavalera brothers then reunited in the Cavalera Conspiracy project.