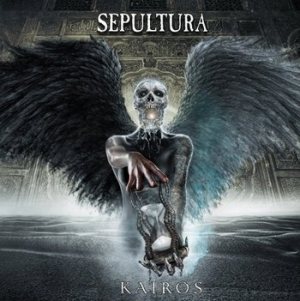 Kairos
| | |
| --- | --- |
| Artist | |
| Type | Studio Full-length |
| Released | 2011-06-17 |
| Genres | Thrash Metal |
| Labels | Nuclear Blast |
| Length | 53:44 |
Reviews : 0
Comments : 0
Total votes : 0
Rating : -
Have : 0
Want : 0
Added by

SludgeLeader
| | Title | Length | Rating | Votes |
| --- | --- | --- | --- | --- |
| 1. | Spectrum | 4:03 | - | 0 |
| 2. | Kairos | 3:37 | - | 0 |
| 3. | Relentless | 3:36 | - | 0 |
| 4. | 2011 | 0:30 | - | 0 |
| 5. | Just One Fix (Ministry cover) | 3:33 | - | 0 |
| 6. | Dialog | 4:57 | - | 0 |
| 7. | Mask | 4:31 | - | 0 |
| 8. | 1433 | 0:31 | - | 0 |
| 9. | Seethe | 2:27 | - | 0 |
| 10. | Born Strong | 4:40 | - | 0 |
| 11. | Embrace the Storm | 3:32 | - | 0 |
| 12. | 5772 | 0:29 | - | 0 |
| 13. | No One Will Stand | 3:17 | - | 0 |
| 14. | Structure Violence (Azzes) | 5:39 | - | 0 |
| 15. | 4648 | 8:22 | - | 0 |
Derrick Green

:

Vocals, Guitars (additional)

Andreas Kisser

:

Guitars

Paulo "Destructor"

:

Bass

Jean Dolabella

:

Drums
Production staff / artist
Roy Z

:

Producer

Maor Appelbaum

:

Mastering

Eric Sayers

:

Artwork
Additional notes
Deluxe edition features 2 bonus tracks and a DVD with the making of the album:
16. Firestarter (The Prodigy cover) (4:31)
17. Point of No Return (3:24)

The regular version contains bonus tracks from the limited edition as ghosts tracks for "4648" making its lenght at 08:22.

Release dates : June 17th in Brazil, June 24 in Europe, July 12th in the U.S.A.