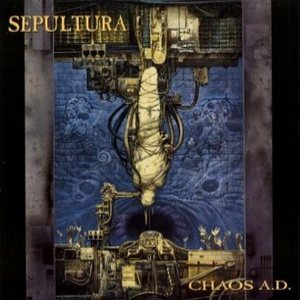 Added by

Eagles
Last edited by

SludgeLeader
| | Title | Length | Rating | Votes |
| --- | --- | --- | --- | --- |
| 1. | Refuse/Resist | 3:19 | 92.5 | 2 |
| 2. | Territory | 4:47 | 92.5 | 2 |
| 3. | Slave New World | 2:54 | 80 | 1 |
| 4. | Amen | 4:27 | 75 | 1 |
| 5. | Kaiowas | 3:43 | 70 | 1 |
| 6. | Propaganda | 3:32 | 85 | 1 |
| 7. | Biotech Is Godzilla | 1:52 | 80 | 1 |
| 8. | Nomad | 4:58 | 70 | 1 |
| 9. | We Who Are Not as Others | 3:42 | 75 | 1 |
| 10. | Manifest | 4:46 | 65 | 1 |
| 11. | The Hunt (New Model Army cover) | 3:59 | 75 | 1 |
| 12. | Clenched Fist | 4:57 | 75 | 1 |
Max Cavalera

:

Guitars (rhythm & Acoustic), Percussion, Vocals

Andreas Kisser

:

Guitars (12-string & Lead)

Paulo Jr.

:

Bass, Floor Tom

Igor Cavalera

:

Drums, Percussion
Guest / session musicians
Production staff / artist
Silvio Bibika

:

Studio Roadie

Andy Wallace

:

Producer, Mixing, Engineering, Recording

George Marino

:

Mastering

Michael R. Whelan

:

Cover Art

Simon Dawson

:

Assistant Engineering

Alex Newport

:

Engineering (guitars)

Dave Somers

:

Assistant Engineering

Gary Monroe

:

Photography

Paul Booth

:

CD Label Art

Monte Conner

:

A&R

Michael Goldstone

:

A&R

Roy Mayorga

:

Additional Producer, Remix (both On "Chaos B.C.")

Chris Flam

:

Engineering, Mixing (both On "Chaos B.C.")

Steven Remote

:

Recording (tracks 15, 16)

Scott Burns

:

Mixing (tracks 15, 16)
Additional notes
Recorded at Rockfield Studios, S. Wales, England
"Kaiowas" recorded at Chepstow Castle, S. Wales, England
Mixed at The Wool Hall Recording Studios, Bath, England

Mastered by at Sterling Sound, New York, NY

European release date: September 2nd, 1993
North American release date: October 19th, 1993

The intro to "Refuse / Resist" is an in utero recording of Zyon Cavalera's heartbeat.

"Biotech Is Godzilla" was co-written and features guest vocals by former Dead Kennedys vocalist Jello Biafra.

Chaos A.D. means: (Chaos Anno Domini)

Videos were made for Refuse / Resist, Territory and Slave New World.

The original version included a hidden bonus at the end of "Clenched Fist" in the form of laughter outtakes from "We Who Are Not As Others", increasing the length of track 12 to 8:01. An American pressing on Epic separates the laughter outtakes to a 13th track lasting 2:01.

Acoustic version of "Kaiowas", recorded live at MTV studios, was released only on MTV Headbanger's Ball 1995 compilation under the name "Kaiowas (Para MTVE "Most Wanted") (03:08).

Track 5 is inspired by a Brasilian Indian tribe called "Kaiowas", who lived in the rain forest. They committed mass suicide as a protest against the government, who was trying to take away their land and beliefs.

Re-released remastered by Roadrunner Records on August 31, 2012, together with Roots. as Roots / Chaos A.D. 2 CD set.

Eagles
(75/100)
전반적으로 Thrash Metal에서 탈피되는 모습을 보이고 있으며 속도보다는 Groove가 강조되고 있다. 브라질 토속음악을 도입하는 음악적 시도가 인상적이며, 다운 튜닝된 묵직한 기타 사운드와 다양한 샘플링은 Industrial의 차갑고 비인간적인 느낌을 강하게 풍긴다. 2집 "Schizophrenia" 앨범부터 본작인 5집까지가 Sepultura를 대표하는 음반들이라 할만하다.

DaveÅkerfeldt
(75/100)
물흐르듯 흘러가는 앨범, 틀어놓으면 몸이먼저 반응하고 곡들에대한 거부감을 전혀 못느끼겠다, 약점이라면, 킬링트랙이 없는 것이다, 튀는 곡 없이 전체적으로 무난한 쓰래쉬를 들려준다,