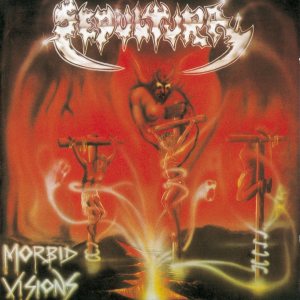 Added by

Eagles
Last edited by

SludgeLeader
Morbid Visions Information
| | Title | Length | Rating | Votes |
| --- | --- | --- | --- | --- |
| 1. | Morbid Visions | 4:39 | - | 0 |
| 2. | Mayhem | 3:17 | - | 0 |
| 3. | Troops of Doom | 3:23 | - | 0 |
| 4. | War | 5:34 | - | 0 |
| 5. | Crucifixion | 5:04 | - | 0 |
| 6. | Show Me the Wrath | 3:54 | - | 0 |
| 7. | Funeral Rites | 4:24 | - | 0 |
| 8. | Empire of the Damned | 4:25 | - | 0 |
Max Cavalera

:

Rhythm Guitar, Vocals, Lyrics

Jairo T.

:

Lead Guitar

Paulo Jr.

:

Bass

Igor Cavalera

:

Drums
Production staff / artist
Eduardo Santos

:

Engineering, Mastering

Zé Luiz

:

Engineering, Mastering

Alex

:

Artwork

Ibsen

:

Artwork (Final)

Vanda Guimarães

:

Photography
Additional notes
Recorded and mixed in seven days on 16 tracks at Estudio Vice Versa, Belo Horizonte, Brazil, August 1986.
Produced by Sepultura.
Assisted by L.W. Alps Becher III.

First press with black/white labels.

Original pressings of the album featured the first movement of "Carmina Burana" by Carl Orff as an intro to the title track. This was left off subsequent reissues, reducing the track length to about 3:25.

Jairo T. also recorded studio bass parts for this album.

Back cover photos: Borges.
Sleeve photos: Pat & Borges.

DaveÅkerfeldt
(75/100)
블랙메탈 느낌마저나는 세풀투라의 1집, 이후 작품들에 비하면 굉장히 저차원적이고 단순하지만, 그것나름대로의 매력이 있다, 메이저 쓰래쉬밴드들의 때묻지 않은 음악을 들어보는 것도 재미있다, 폭력성 甲