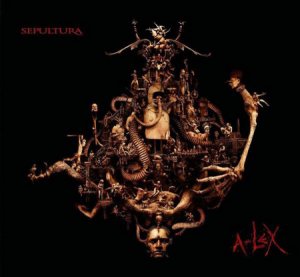 A-Lex
| | |
| --- | --- |
| Artist | |
| Type | Studio Full-length |
| Released | 2009-01-23 |
| Genres | Thrash Metal |
| Labels | Steamhammer |
| Length | 54:23 |
Reviews : 0
Comments : 0
Total votes : 0
Rating : -
Have : 0
Want : 0
Added by

SludgeLeader
| | Title | Length | Rating | Votes |
| --- | --- | --- | --- | --- |
| 1. | A-Lex I | 1:54 | - | 0 |
| 2. | Moloko Mesto | 2:09 | - | 0 |
| 3. | Filthy Rot | 2:46 | - | 0 |
| 4. | We've Lost You! | 4:15 | - | 0 |
| 5. | What I Do! | 2:01 | - | 0 |
| 6. | A-Lex II | 2:18 | - | 0 |
| 7. | The Treatment | 3:24 | - | 0 |
| 8. | Metamorphosis | 3:02 | - | 0 |
| 9. | Sadistic Values | 6:51 | - | 0 |
| 10. | Forceful Behavior | 2:28 | - | 0 |
| 11. | Conform | 1:54 | - | 0 |
| 12. | A-Lex III | 2:03 | - | 0 |
| 13. | The Experiment | 3:28 | - | 0 |
| 14. | Strike | 3:41 | - | 0 |
| 15. | Enough Said | 1:37 | - | 0 |
| 16. | Ludwig Van | 5:30 | - | 0 |
| 17. | A-Lex IV | 2:46 | - | 0 |
| 18. | Paradox | 2:16 | - | 0 |
Derrick Green

:

Vocals

Andreas Kisser

:

Guitars

Paulo Jr.

:

Bass

Jean Dolabella

:

Drums
Guest / session musicians
Sergio Roberto De Oliveira

:

Additional Bass

Mario Sergio Rocha

:

French Horn

Eduardo Queiroz

:

Keyboards

Fernando Lopez

:

Trumpet

Alejandro DeLeon

:

Viola

Fábio Brucoli

:

Violin

Alex B. Ximenes

:

Violin

Wagner Lavos

:

Violoncello
Production staff / artist
Monika Cavalera

:

Executive Producer

Stanley Soares

:

Producer, Engineering, Mixing

George Marino

:

Mastering

Ulisses Razaboni

:

Artwork

Mario Niveo

:

Artwork

Rodrigo Almeida

:

Artwork

Marco Piza

:

Artwork

Eric Sanchez

:

Photography
Additional notes
A-Lex stands for "no law" or "without law". It also resembles the name of the protagonist, Alex, of Anthony Burgess' A Clockwork Orange upon which the album is based.

Release dates:
Germany, Austria, Switzerland, Brazil: January 23
UK, Scandinavia, rest of Europe: January 26
USA, Canada: January 27

A-Lex is available in three versions: in a deluxe digipak with an embossed cover, in a regular jewel case and on a vinyl gatefold LP.

This marks the first Sepultura album recorded without any of the Cavalera brothers.

Two other tracks were completed during the recording sessions. The songs were supposed to be included on A-Lex re-release, in April 2010, but everything was cancelled. One track (Seethe) was re-recorded and it was included on Kairos album.

Videos were made for "We've Lost You!" and "What I Do!".