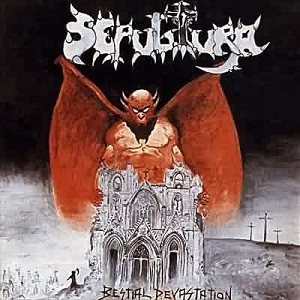 Bestial Devastation
Reviews : 0
Comments : 0
Total votes : 0
Rating : -
Have : 0
Want : 0
Added by

SchoolMeal
Last edited by

SludgeLeader
Bestial Devastation Information
| | Title | Length | Rating | Votes |
| --- | --- | --- | --- | --- |
| 1. | The Curse | 0:39 | - | 0 |
| 2. | Bestial Devastation | 3:06 | - | 0 |
| 3. | Antichrist | 3:46 | - | 0 |
| 4. | Necromancer | 3:52 | - | 0 |
| 5. | Warriors of Death | 4:07 | - | 0 |
| 6. | Troops of Doom | 3:19 | - | 0 |
Max Possessed

:

Rhythm Guitars, Vocals

Andreas Kisser

:

Lead Guitar (on "Troops of Doom")

Jairo Tormentor

:

Lead Guitar

Paulo Destructor

:

Bass

Igor Skullcrusher

:

Drums
Guest / session musicians
Henrique

:

Synthesizers (on "Troops of Doom")
Production staff / artist
Sérgio

:

Artwork

Scott Burns

:

Mixing (on "Troops of Doom")

Wagner Antichrist

:

Lyrics (on "Antichrist")

Vânia Cavalera

:

Back Cover Photo
Additional notes
Recorded and mixed on 8 tracks by Joao & Tarsio at Studio Joao Guimaraes.
"Troops of Doom" was recorded August, 1990 on 16 tracks at JG Studios, BH, Brazil.

Originally released as part of the Sepultura / Overdose split in 1985.

Cogumelo released in 1990 the Bestial Devastation MLP without the Overdose part. This release contains a new version of "Troops of Doom" recorded in 1990. It's the same version that appears as bonus in Schizophrenia.

Produced by Cogumelo Discos.

Jairo Tormentor also recorded studio bass parts for this EP.