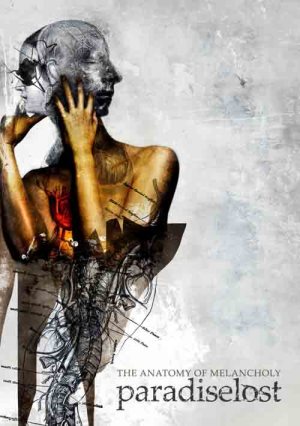 The Anatomy of Melancholy
Reviews : 0
Comments : 0
Total votes : 0
Rating : -
Have : 0
Want : 0
Added by

SludgeLeader
The Anatomy of Melancholy Information
| | Title | Length | Rating | Votes |
| --- | --- | --- | --- | --- |
| 1. | Intro | 1:00 | - | 0 |
| 2. | The Enemy | 3:50 | - | 0 |
| 3. | Grey | 3:48 | - | 0 |
| 4. | Erased | 4:08 | - | 0 |
| 5. | Red Shift | 3:36 | - | 0 |
| 6. | So Much Is Lost | 4:33 | - | 0 |
| 7. | Sweetness | 4:52 | - | 0 |
| 8. | Praise Lamented Shade | 4:05 | - | 0 |
| 9. | Pity the Sadness | 5:33 | - | 0 |
| 10. | Forever Failure | 4:42 | - | 0 |
| 11. | Once Solemn | 3:28 | - | 0 |
| 12. | As I Die | 4:01 | - | 0 |
| 13. | Embers Fire | 5:30 | - | 0 |
| 14. | Mouth | 3:47 | - | 0 |
| 15. | No Celebration | 3:54 | - | 0 |
| 16. | Eternal | 4:16 | - | 0 |
| 17. | True Belief | 4:47 | - | 0 |
| 18. | One Second | 3:42 | - | 0 |
| 19. | The Last Time | 4:22 | - | 0 |
| 20. | Gothic | 5:44 | - | 0 |
| 21. | Say Just Words | 4:36 | - | 0 |
Nick Holmes

:

Vocals

Gregor Mackintosh

:

Lead Guitar

Aaron Aedy

:

Rhythm Guitar

Stephen Edmondson

:

Bass

Jeff Singer

:

Drums
Production staff / artist
Seth Siro Anton

:

Cover Art

Jens Bogren

:

Mixing, Mastering

Mark Mynett

:

Additional Vocal Engineering
Additional notes
Live at the KOKO, in London, on April 12th, 2007.

Release dates:
Germany, Austria, Switzerland, Benelux, Italy: Friday, May 23
Spain, Portugal: Tuesday, May 27
Sweden, Finland, Hungary: Wednesday, May 28
UK, France, Greece, Denmark, Norway, Rest Of Europe: Monday, May 26

Bonus material:
* Interview with PARADISE LOST (14:27)
* Fans at the Koko (8:48)
* Lost in Europe (2007 tour report) (27:30)

Promo videos:
01. The Enemy (3:39)
02. Praise Lamented Shade (4:05)
03. Over the Madness - documentary trailer (1:31)

The DVD contains a hidden 22nd song "Isolate", which is excluded on the CD version.

Also released as special Box-Edition with the 2 Audio-CDs.
Paradise Lost Discography