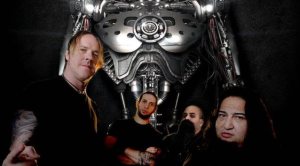 Fear Factory
Burton C. Bell

:

Vocals

(1990-)

Dino Cazares

:

Guitars

(1990-2002, 2009-)

, Backing Vocals

(1990-2002)

Tony Campos

:

Bass, Backing Vocals

(2015-)

Mike Heller

:

Drums

(2012-)
Dave Gibney

:

Bass

(1990-1991)

Raymond Herrera

:

Drums, Percussion

(1990-2009)

Andy Romero

:

Bass

(1991-1992)

Andrew Shives

:

Bass

(1992-1993)

Christian Olde Wolbers

:

Bass, Vocals

(1993-2002)

, Guitars

(2003-2009)

Byron Stroud

:

Bass, Backing Vocals

(2003-2012)

Gene Hoglan

:

Drums

(2009-2012)

Matt DeVries

:

Bass, Backing Vocals

(2012-2015)
Releases : 49 Total votes : 0 Reviews : 0
Added by

Eagles
Last edited by

SludgeLeader
Additional notes
Fear Factory first went by the name Ulceration in 1989, which was a song on their supposed first release "Concrete". Later they went under the name Fear the Factory, but then decided to stay with the shorter Fear Factory on their demo releases. When they were formed by Dino Cazares and Raymond Herrera, the first song the band ever wrote was "Suffer Age" on the Halloween night in 1990.

Fear Factory started out as a straight up grindcore/death metal band, being heavily influenced by Napalm Death and other grind/death metal bands. When they recorded the album "Soul of A New Machine" they were already influenced by Godflesh, Ministry, Neurosis and other industrial bands, resulting in an original industrial/death metal sound. Many praise Fear Factory as being one of the first death metal acts to incorporate clean vocals in their music, which they were known for during their death metal days. In due time, they became industrial groove/death/thrash metal (Demanufacture), and then invented the "cyber metal" genre (Obsolete through today), which was a mix of industrial, thrash, alternative and other influences; after that the band dropped all the death metal influences out of their music. At one point, they were industrial groove/nu metal on their album "Digimortal" but soon left that sound on "Archetype."

Co-founding member of Fear Factory Dino Cazares left the group due to personal problems with Burton Bell. Dino was accused of allowing ego to get in the way of Fear Factory, taking credit for everything they did. Fear Factory had a hard time finding a replacement guitar player, so Christian Wolbers took over guitar duties. Byron Stroud was hired as the new bass player.

On April 7, 2009, Burton C. Bell and Dino Cazares announced the formation of a new project with Stroud on bass and drummer Gene Hoglan. On April 28th, this project was revealed to actually be a new version of Fear Factory, minus long-time members Wolbers and Herrera. Bell, when asked why Herrera and Wolbers were not included, stated that "[Fear Factory]'s like a business and I'm just reorganizing...We won't talk about [their exclusion]". According to Herrera and Wolbers in a later interview, they had no idea of the "reformation" of Fear Factory and that an ensuing legal battle over the rights to the name was happening since Fear Factory Incorporated is split between the four: Bell, Cazares, Wolbers, and Herrera.

All members of Fear Factory work on many side projects. One which is quite weird to hear is Raymond Herrera and Christian Olde Wolbers side project with B-Real Of Cypress Hill and members of Deftones. It's been even rumoured that Christian would be a full time member of Cypress Hill, playing as live bass but this has yet come true. Burton C Bell, while Fear Factory was broken up, started a side project called Ascension of the Watchers with former keyboardist John Bechdel. This project is a progressive folk/ambience project that's nowhere near metal. In the early 90's, Dino and Burton took part in a much forgotten side project during their death metal days called Hated... And Proud! which was a punk rock band in the vein of groups such as Bad Religion. Christian has been known to work as a producer with numerous rap acts like Cypress Hill, Snoop Dogg, Kurupt, Ludacris, and Everlast; and has also collaborated with Soulfly and Devin Townsend among others.

Although keyboardists are labelled in the band's information as former members, they were never really members of the band. They did session, studio and live keyboards but were never mentioned in the booklets of CD's or on the band's official website as official members.

Interesting Notes:

When Dino Cazares and Raymond Herrera were looking for band members to recruit for Fear Factory, they met Christian Wolbers through Evan Seinfeld of Biohazard. The band originally was going in and out with bassists but finally stuck with Christian. He was on vacation from his country Belgium in America at the time; once Christian was recruited, he decided to live in America. The reputed situation in which Raymond and Dino recruited Burton was quite strange for a death metal band: while staying in a hotel, they heard Burton singing a U2 song aloud in the showers and right away went up to his door and got him into the band on the spot.

Former bassist Andrew Shives never actually played on any actual studio records (he was cited as being the bassist for the "Soul of a New Machine" album but Dino Cazarez played all bass on the album.) Andrew only played live and did only one studio session, which was a 7" single called "Sangre De Ninos." He was later kicked out because of inner disputes with the rest of the band.

Burton C. Bell claims to have appeared as one of the many fans in the Nirvana video "Smells Like Teen Spirit." He also has an identical twin brother.

Every Fear Factory album released shows a change of their famous "FF" logo. Every FF logo change represents the era of Fear Factory at that time.

Christian Olde Wolbers was the first artist ever allowed to use Dimebag's (Pantera, Damageplan) proto type signature head called the "Krankenstein."

Although the band is from the US, Fear Factory members have diverse backgrounds. Burton is American (Texan), but Christian is originally from Belgium, Dino and Raymond are both Mexican Americans and Byron is Canadian.