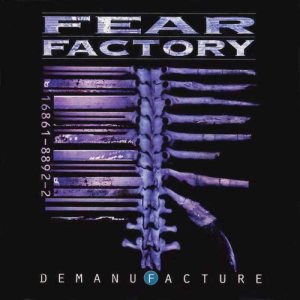 Demanufacture
Reviews : 0
Comments : 0
Total votes : 0
Rating : -
Added by

Eagles
Last edited by

SludgeLeader
Demanufacture Information
| | Title | Length | Rating | Votes |
| --- | --- | --- | --- | --- |
| 1. | Demanufacture | 4:13 | - | 0 |
| 2. | Self Bias Resistor | 5:11 | - | 0 |
| 3. | Zero Signal | 5:57 | - | 0 |
| 4. | Replica | 3:56 | - | 0 |
| 5. | New Breed | 2:49 | - | 0 |
| 6. | Dog Day Sunrise (Head of David cover) | 4:45 | - | 0 |
| 7. | Body Hammer | 5:05 | - | 0 |
| 8. | Flashpoint | 2:52 | - | 0 |
| 9. | H-K (Hunter-Killer) | 5:17 | - | 0 |
| 10. | Pisschrist | 5:24 | - | 0 |
| 11. | A Therapy for Pain | 9:43 | - | 0 |
Burton C. Bell

:

Vocals, Keyboards, Lyrics

Dino Cazares

:

Guitars, Bass, Lyrics (track 5)

Raymond Herrera

:

Drums
Guest / session musicians
Rhys Fulber

:

Keyboards

Reynor Diego

:

Keyboards
Production staff / artist
Rhys Fulber

:

Mixing

Greg Reely

:

Mixing, Engineering

Michele Lanci-Altomare

:

Logo

Joseph Cultice

:

Photography

Dave McKean

:

Cover Art, Design, Cover Concept

George Marino

:

Mastering

David Huron

:

Mixing (assistant)

Jake Davies

:

Engineering (assistant)

Zmago Smon

:

Engineering

Scott Gormley

:

Engineering (assistant)

Steve Harris

:

Engineering

Colin Richardson

:

Producer

Monte Conner

:

A&R
Additional notes
Recorded at Bearsville Studios, Bearsville, NY (October 7 - November 20, 1994).
Additional tracking at Whitfield Street Recording, London, UK (December 2 - 18, 1994).
Mixed at The Enterprise Studios, Burbank, CA (February 4 - 26, 1995).
Mastered at Sterling Sound, New York, NY.

Although Christian Olde Wolbers is credited on bass, he joined the band after the album was recorded. All bass on the album was played by Dino Cazares.

A video was made for the song "Replica."