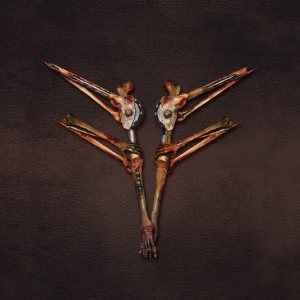 Archetype
Reviews : 0
Comments : 0
Total votes : 0
Rating : -
Have : 0
Want : 0
Added by

Eagles
Last edited by

SludgeLeader
| | Title | Length | Rating | Votes |
| --- | --- | --- | --- | --- |
| 1. | Slave Labor | 3:53 | - | 0 |
| 2. | Cyberwaste | 3:18 | - | 0 |
| 3. | Act of God | 5:08 | - | 0 |
| 4. | Drones | 5:02 | - | 0 |
| 5. | Archetype | 4:36 | - | 0 |
| 6. | Corporate Cloning | 4:24 | - | 0 |
| 7. | Bite the Hand That Bleeds | 4:09 | - | 0 |
| 8. | Undercurrent | 4:05 | - | 0 |
| 9. | Default Judgement | 5:23 | - | 0 |
| 10. | Bonescraper | 4:11 | - | 0 |
| 11. | Human Shields | 5:16 | - | 0 |
| 12. | Ascension (Outro) | 7:05 | - | 0 |
| 13. | School (Nirvana cover) | 2:38 | - | 0 |
Burton C. Bell

:

Vocals

Christian Olde Wolbers

:

Guitars, Bass

Raymond Herrera

:

Drums
Guest / session musicians
Steve Tushar

:

Keyboards, Programming, Effects

Rhys Fulber

:

Keyboards, Programming, Effects

John Bechdel

:

Keyboards, Effects
Production staff / artist
Ralph Schrader

:

Layout

Burton C. Bell

:

Logo Art

Torsten Gebhardt

:

Artwork

Omer Cordell

:

Photography

Greg Reely

:

Mixing

Howie Weinberg

:

Mastering

Mike Catain

:

Executive Producer

Jeremy Blair

:

Engineering (assistant)

Ken Marshall

:

Engineering
Additional notes
Recorded at Rumbo Recorders, Lanoga Park, CA October - November 2003.
Mixed at The Green Jacket in Richmond, British Columbia, December 2003.
Mastered and developement at Masterdisk, Manhattan, New York, January 2004.

The limited edition digipak includes a bonus dvd. Depending on where you obtained the digipack from, the dvd will either be one of their australian tour of 2004 and the video for 'Cyberwaste'; or a dvd based around The Making of Archetype.
Some versions of the limited digipak also included a gold ticket that gave you a chance to meet Fear Factory live.

A fourteenth unknown track was also recorded during these sessions but has yet to be released.

Japanese Version contains the bonus track "Archetype (Remix)" (04:30).

Archetype (Remix) is also to be found on the 2003 'The Texas Chainsaw Massacre OST'.