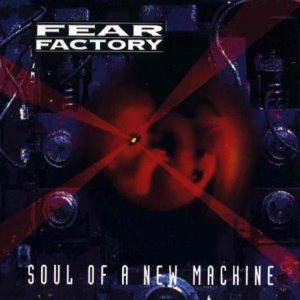 Soul of a New Machine
Reviews : 0
Comments : 0
Total votes : 0
Rating : -
Added by

Eagles
Last edited by

SludgeLeader
Soul of a New Machine Information
| | Title | Length | Rating | Votes |
| --- | --- | --- | --- | --- |
| 1. | Martyr | 4:05 | - | 0 |
| 2. | Leechmaster | 3:54 | - | 0 |
| 3. | Scapegoat | 4:33 | - | 0 |
| 4. | Crisis | 3:46 | - | 0 |
| 5. | Crash Test | 3:46 | - | 0 |
| 6. | Flesh Hold | 2:32 | - | 0 |
| 7. | Lifeblind | 3:52 | - | 0 |
| 8. | Scumgrief | 4:07 | - | 0 |
| 9. | Natividad | 1:04 | - | 0 |
| 10. | Big God / Raped Souls | 2:39 | - | 0 |
| 11. | Arise Above Oppression | 1:51 | - | 0 |
| 12. | Self Immolation | 2:47 | - | 0 |
| 13. | Suffer Age | 3:40 | - | 0 |
| 14. | W.O.E. | 2:33 | - | 0 |
| 15. | Desecrate | 2:35 | - | 0 |
| 16. | Escape Confusion | 3:59 | - | 0 |
| 17. | Manipulation | 3:30 | - | 0 |
Burton C. Bell

:

Vocals

Dino Cazares

:

Guitars, Bass

Raymond Herrera

:

Drums
Production staff / artist
Dino Cazares

:

Mixing

Robert Fayer

:

Engineering Assistant

Bradley Cook

:

Engineering Assistant

Steve Harris

:

Engineering, Mixing

Lora Porter

:

Executive Producer

Joe Lance

:

Photography

Eddy Schreyer

:

Mastering

Colin Richardson

:

Producer, Mixing

Satok Lrak

:

Computer Graphics, Art Direction
Additional notes
Recorded at Grand Master, Ltd. (Hollywood, CA), May 1992.
Mixed at Fon Studios (Sheffield, England), June 1992
Mastered at Future Disc (Hollywood, CA).

All music and arrangements by Dino Cazares.
All lyrics by Burton C. Bell, except Escape Confusion and Suffer Age by Dino Cazares, and Arise Above Oppression by Burton C. Bell and Dino cazares.

This is Fear Factory's debut album not Concrete, which was recorded in 1991 but not released until 2002.

Andrew Shives is credited as the bassist, but he didn't play on the album.

"Natividad" is considered an instrumental, but technically, it's just the sound of things being crushed and smashed. The track is a dedication to, and is named after, Dino Cazares's mother.

This record is dedicated in loving memory of Natividad Cazares (1935-1982) and Joey Cazares (1959-1985).

Released on CD, LP and tape format.