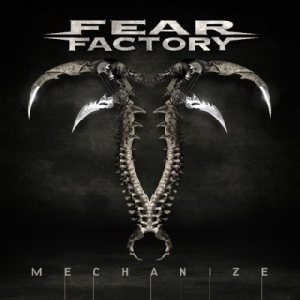 Mechanize
Reviews : 0
Comments : 0
Total votes : 0
Rating : -
Have : 0
Want : 0
Added by

SludgeLeader
| | Title | Length | Rating | Votes |
| --- | --- | --- | --- | --- |
| 1. | Mechanize | 4:41 | - | 0 |
| 2. | Industrial Discipline | 3:38 | - | 0 |
| 3. | Fear Campaign | 4:54 | - | 0 |
| 4. | Powershifter | 3:50 | - | 0 |
| 5. | Christploitation | 4:59 | - | 0 |
| 6. | Oxidizer | 3:45 | - | 0 |
| 7. | Controlled Demolition | 4:25 | - | 0 |
| 8. | Designing the Enemy | 4:55 | - | 0 |
| 9. | Metallic Division | 1:30 | - | 0 |
| 10. | Final Exit | 8:17 | - | 0 |
Burton C. Bell

:

Vocals, Lyrics

Dino Cazares

:

Guitars, Bass

Gene Hoglan

:

Drums
Guest / session musicians
Mark Ferris

:

Additional String Arrangements (Track 10)

Rhys Fulber

:

Keyboards, Electronics, Programming

John Sankey

:

Programming (Track 8)
Production staff / artist
Glen LeFerman

:

Photography (band)

Anthony Clarkson

:

Artwork, Layout

Rob Shallcross

:

Digital Editing

Jarosław "Jaro" Baran

:

Digital Editing

Kyle Moorman

:

Engineering

Greg Reely

:

Engineering, Mixing, Mastering

Dino Cazares

:

Producer, Executive Producer

Burton C. Bell

:

Producer, Executive Producer

Rhys Fulber

:

Producer
Additional notes
Release dates:
Europe - February 5, 2010
USA - February 9, 2010

Byron Stroud is credited as bassist, but did not record bass tracks on the album.

Released as Jewel-Case CD, Digipack CD, 12" Vinyl LP and limited Boxset.

A special "tool box" edition by AFM Records is also available. The box includes the digipack CD, carpenter pencil, hammer, screwdriver, caliper, folding rule, measuring tape, patch (12 x 5cm), poster DIN A2 (folded to A4), certificate with serial number and sticker DIN A5.

Produced, recorded, mixed and mastered at Surplus Studio, Van Nuys, CA., July 2009 - September 2009.

Bonus tracks on the limited edition Digipak version:
11. Crash Test (2010 Version) (03:39)
12. Big God (Demo 1991) (01:52)
13. Self Immolation (Demo 1991) (03:07)
14. Soul Womb (Demo 1991) (02:50)

Track 14 is called 'Soul Womb' not 'Soul Wound'.
The re-recorded bonus track from Obsolete is called 'Soulwound'.

Bonus track for Japan:
11. Martyr (2010 Version) (4:24)

The band also re-recorded the song "Sangre de Niños" (originally featured on the Concrete album) during the Mechanize sessions. It has yet to be released.