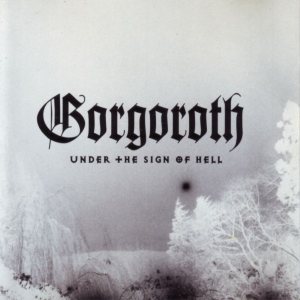 Under the Sign of Hell
| | |
| --- | --- |
| Artist | |
| Type | Studio Full-length |
| Released | 1997-10-20 |
| Genres | Black Metal |
| Labels | Malicious Records |
| Length | 32:53 |
Reviews : 0
Comments : 0
Total votes : 0
Rating : -
Have : 0
Want : 0
Added by

Eagles
Last edited by

SludgeLeader
Under the Sign of Hell Information
| | Title | Length | Rating | Votes |
| --- | --- | --- | --- | --- |
| 1. | Revelation of Doom | 3:15 | - | 0 |
| 2. | Krig | 2:43 | - | 0 |
| 3. | Funeral Procession | 3:01 | - | 0 |
| 4. | Profetens åpenbaring | 5:20 | - | 0 |
| 5. | Postludium | 1:34 | - | 0 |
| 6. | Ødeleggelse og undergang | 4:28 | - | 0 |
| 7. | Blood Stains the Circle | 2:42 | - | 0 |
| 8. | The Rite of Infernal Invocation | 6:49 | - | 0 |
| 9. | The Devil Is Calling | 3:01 | - | 0 |
Pest

:

Vocals

Infernus

:

Guitars, Bass

Grim

:

Drums, Percussion

Ares

:

Bass (track 1)
Production staff / artist
Pytten

:

Producer

Infernus

:

Producer, Lyrics

Eyeball Explosion

:

Layout
Additional notes
Recorded in 1996 in Grieghallen Lydstudio.

Layout by Houdini Design and Eyeball Explosion.

Some copies came with a Malicious Records flyer, promoting Kampfar' first album.

English translations:
2. War
4. Revelations of the Prophet
6. Destruction and Doom


Re-released in 2005 by Season of Mist in digipak format.

12" vinyl released by Agonia Records in 2005, limited to 1000 copies (same cover art as the Season of Mist re-release).

Re-released in 2006 by Back on Black as gatefold LP.

12" picture disc LP is limited to 666 copies.

Re-released as a remastered jewel case CD by Regain Records in 2007 and retains the original artwork.