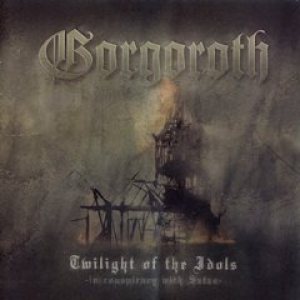 Twilight of the Idols - in Conspiracy with Satan
| | |
| --- | --- |
| Artist | |
| Type | Studio Full-length |
| Released | 2003-07-21 |
| Genres | Black Metal |
| Labels | Nuclear Blast |
| Length | 32:28 |
Reviews : 0
Comments : 0
Total votes : 0
Rating : -
Have : 0
Want : 0
Added by

Eagles
Last edited by

SludgeLeader
Twilight of the Idols - in Conspiracy with Satan Information
| | Title | Length | Rating | Votes |
| --- | --- | --- | --- | --- |
| 1. | Procreating Satan | 3:42 | - | 0 |
| 2. | Proclaiming Mercy - Damaging Instinct of Man | 2:56 | - | 0 |
| 3. | Exit - Through Carved Stones | 5:45 | - | 0 |
| 4. | Teeth Grinding | 4:34 | - | 0 |
| 5. | Forces of Satan Storms | 4:34 | - | 0 |
| 6. | Blod og minne | 3:26 | - | 0 |
| 7. | Of Ice and Movement... | 6:41 | - | 0 |
| 8. | Domine in Virtute Tua Laetabitur Rex | 0:50 | - | 0 |
Gaahl

:

Vocals

Infernus

:

Guitars

King Ov Hell

:

Bass

Kvitrafn

:

Drums
Production staff / artist
King Ov Hell

:

Music (tracks 2, 3, 4, 5, 6)

Gaahl

:

Lyrics

Infernus

:

Lyrics (track 5), Music (track 8)

Peter Beste

:

Photography

May Husby

:

Cover Art, Design

Brynjulf

:

Engineering

Herbrand Larsen

:

Engineering, Outro (track 7)

Kvitrafn

:

Music (tracks 1, 7)
Additional notes
Recorded and mixed in Shimmer Recordings, Bergen, May 2002 - January 2003.
Mastered at Polar Studios, Stockholm, January 2003.

Title (again) taken from the Nietzche book 'Twilight of the Idols, or how One Philosophizes with a Hammer'.

The album cover was reportedly banned in Europe for depicting the church Fantoft, the legendary 12th century historical church that Varg Vikernes and friends burned down.

"Blod og minne" means "Blood and memory" in Norwegian and "Domine in Virtute Tua Laetabitur Rex" is Latin for "Lord, In Your Strength the King Shall Rejoice".