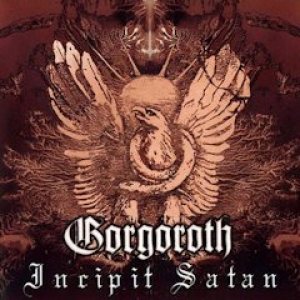 Incipit Satan
| | |
| --- | --- |
| Artist | |
| Type | Studio Full-length |
| Released | 2000-02-07 |
| Genres | Black Metal |
| Labels | Nuclear Blast |
| Length | 36:46 |
Reviews : 0
Comments : 0
Total votes : 0
Rating : -
Have : 0
Want : 0
Added by

Eagles
Last edited by

SludgeLeader
Incipit Satan Information
| | Title | Length | Rating | Votes |
| --- | --- | --- | --- | --- |
| 1. | Incipit Satan | 4:33 | - | 0 |
| 2. | A World to Win | 3:43 | - | 0 |
| 3. | Litani til Satan | 4:33 | - | 0 |
| 4. | Unchain My Heart!!! | 4:47 | - | 0 |
| 5. | An Excerpt of X | 5:50 | - | 0 |
| 6. | Ein eim av blod og helvetesild | 3:09 | - | 0 |
| 7. | Will to Power | 4:28 | - | 0 |
| 8. | When Love Rages Wild in My Heart | 5:43 | - | 0 |
Gaahl

:

Vocals

Tormentor

:

Vocals (track 4), Guitars

Infernus

:

Vocals (track 5), Bass (track 5), Drums (track 5), Keyboards (track 5), Guitars

King Ov Hell

:

Bass

Sjt. Erichsen

:

Drums
Guest / session musicians
Micky Faust

:

Vocals (track 8)

Daimonion

:

Keyboards
Production staff / artist
Tomas Skogsberg

:

Technician (guitars)

Kay A. Berg

:

Photography

Eugen

:

Engineering (guitars)

Jocke Pettersson

:

Producer, Engineering, Mixing

Herbrand Larsen

:

Editing, Mixing, Mastering
May Husby Artwork, Layout

Infernus

:

Mixing, Mastering

Mia

:

Editing, Mastering
Additional notes
Recorded and mixed at Sunlight Studio, Stockholm, Sweden, between July, August and October 1999.
Mastered at Polar Studios, Stockholm.

Dedicated to Grim.

"An Excerpt of X" was composed and recorded solely by Infernus.

Re-released in 2006 by Back on Black Records as gatefold LP.

Also released, along with Twilight of the Idols, as double 12" LP on black wax limited to 666 hand numbered copies in a special pack (Nuclear Blast Records).

Translations:
3. Les Litanies de Satan
6. A Reek of Blood and Hellfire

Les Litanies de Satan is a Satanic poem by Charles Baudelaire published in his work Les Fleurs du mal (The Flowers of Evil).