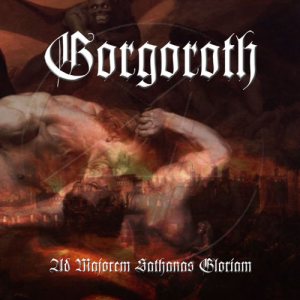 Ad Majorem Sathanas Gloriam
| | |
| --- | --- |
| Artist | |
| Type | Studio Full-length |
| Released | 2006-06-19 |
| Genres | Black Metal |
| Labels | Regain Records |
| Length | 31:51 |
Reviews : 0
Comments : 0
Total votes : 0
Rating : -
Have : 0
Want : 0
Added by

Eagles
Last edited by

SludgeLeader
Ad Majorem Sathanas Gloriam Information
| | Title | Length | Rating | Votes |
| --- | --- | --- | --- | --- |
| 1. | Wound Upon Wound | 3:32 | - | 0 |
| 2. | Carving a Giant | 4:12 | - | 0 |
| 3. | God Seed (Twilight of the Idols) | 4:16 | - | 0 |
| 4. | Sign of an Open Eye | 4:06 | - | 0 |
| 5. | White Seed | 4:39 | - | 0 |
| 6. | Exit | 3:33 | - | 0 |
| 7. | Untamed Forces | 2:39 | - | 0 |
| 8. | Prosperity and Beauty | 4:54 | - | 0 |
Gaahl

:

Vocals, Lyrics

Infernus

:

Guitars

King

:

Bass
Guest / session musicians
Production staff / artist
King Ov Hell

:

Cover Art

Svein "Schwein" Solberg

:

Engineering (guitars & Bass)

Geir Luedy

:

Engineering (drums)

Thomas Eberger

:

Mastering

Infernus

:

Mastering, Cover Art

Herbrand Larsen

:

Engineering (vocals), Mixing

Alexander Langsholt

:

Cover Art, Photography
Additional notes
Guitars and bass recorded at Steel Production's Studio in Spydberg, May 2005, engineered by Svein Solberg.
Vocals recorded at Earshot Studio in Bergen, March 2006, engineered by Herbrand Larsen.
Drums recorded at Lydriket Studio in Bergen, January 2005, engineered by Geir Luedy.
Mixed by Gorgoroth and Herbrand Larsen in Bergen.
Mastered by Infernus and Thomas Eberger at Cutting Room in Stockholm, April 2006.
Produced by Gorgoroth.
All music by King.

Ad Majorem Sathanas Gloriam has been released in a limited edition digipack on Regain Records.
This edition features slightly modified cover art and a bonus DVD which includes the uncensored version of the "Carving a Giant" video not previously seen on MTV or YouTube as well as "The Making of Carving a Giant" documentary.
More information on the release is available via Regain Records' website.

The title is Latin for "For the Greater Glory of Satan". It is a parody of Ad Maiorem Dei Gloriam ("For the Greater Glory of God"), the motto of the Society of Jesus, conceived by Infernus after having read an article on the counter-reformation and the Jesuits. This is so far the only Gorgoroth album not to have any titles and lyrics in Norwegian.

The artwork used is from the painting Dante and Virgil in Hell by William-Adolphe Bouguereau.