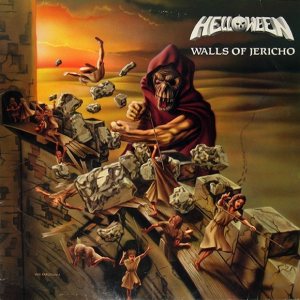 Walls of Jericho Information
| | Title | Length | Rating | Votes |
| --- | --- | --- | --- | --- |
| 1. | Walls of Jericho | 0:49 | 65 | 1 |
| 2. | Ride the Sky | 5:57 | 80 | 1 |
| 3. | Reptile | 3:45 | 75 | 1 |
| 4. | Guardians | 4:21 | 80 | 1 |
| 5. | Phantoms of Death | 6:35 | 75 | 1 |
| 6. | Metal Invaders | 4:12 | 85 | 1 |
| 7. | Gorgar | 3:57 | 70 | 1 |
| 8. | Heavy Metal (Is the Law) | 4:01 | 80 | 1 |
| 9. | How Many Tears | 7:16 | 90 | 1 |
Kai Hansen

:

Vocals, Guitars

Michael Weikath

:

Guitars

Markus Grosskopf

:

Bass

Ingo Schwichtenberg

:

Drums
Guest / session musicians
Chris Boltendahl

:

Additional Vocals ("Reptile")

James "Could Ya" Hardway

:

Emulator II
Production staff / artist
Michael Weikath

:

Cover Concept

Harris Johns

:

Producer, Engineering, Mixing

Uwe Karczewski

:

Cover Art

Edda Karczewski

:

Cover Art
Additional notes
Recorded and mixed in September/October '85 at Musiclad studio, Berlin

Most CD versions are of the re-issue that Noise did in 1987 that included in a single CD the mini-album "Helloween" (tracks 1-5), "Walls Of Jericho" (tracks 6-14) album and the song "Judas" (track 15) from the "Judas" maxi-
The Japanese edition features an additional track, 16. Don't Run for Cover.

The version listed here is another CD version containing only the original album that was released in Japan on Combat / Noise Records (cat.-no. 88561-8093-2).

Tracks 1, 6, and 8 by Weikath & Hansen
Tracks 2, 5, and 7 by Hansen
Tracks 3, 4, and 9 by Weikath

Released on tape by Koch International (N 0088-4) in 1997 with the same tracklist as the Noise reissue from 1987.
Reviewer :

Eagles
(

80

/

100

)
EP데뷔앨범과 함께 국내에 합본형태로 발매된 Walls Of Jericho 앨범으로 전작과 크게 다르지 않은 Speed Metal을 구사한다. 아직 정제되지 않은 거친 Thrash 사운드를 들려주고 있는데, 발매당시 평론가들로부터 상당한 평가를 얻어 내었던 것으로 기억한다. Keeper Of The Seven Keys 시리즈의 모습을 어느정도 찾아볼 수는 있으나, Helloween이 이후 그토록 엄청난 업그레이드를 보여 주리라 누가 예상이나 했을까. 초기명곡 How Many Tears등을 담고 있다.

Best Track : How Many Tears
Walls of Jericho Comments

Up The Irons!
(80/100)
음질이 최악이다

deicide666
(70/100)
헬로윈의 시작...하지만 이 앨범은 평작수준.......