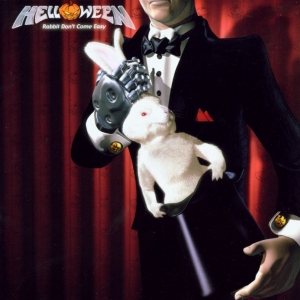 Rabbit Don't Come Easy
| | |
| --- | --- |
| Artist | |
| Type | Studio Full-length |
| Released | 2003-05-12 |
| Genres | Power Metal |
| Labels | Nuclear Blast |
| Length | 1:01:13 |
| Ranked | #65 for 2003 , #1,930 all-time |
Rabbit Don't Come Easy Information
| | Title | Length | Rating | Votes |
| --- | --- | --- | --- | --- |
| 1. | Just a Little Sign | 4:26 | 85 | 1 |
| 2. | Open Your Life | 4:30 | 80 | 1 |
| 3. | The Tune | 5:37 | 70 | 1 |
| 4. | Never Be a Star | 4:12 | 75 | 1 |
| 5. | Liar | 4:56 | 75 | 1 |
| 6. | Sun 4 the World | 3:58 | 70 | 1 |
| 7. | Don't Stop Being Crazy | 4:21 | 75 | 1 |
| 8. | Do You Feel Good | 4:24 | 70 | 1 |
| 9. | Hell Was Made in Heaven | 5:34 | 80 | 1 |
| 10. | Back Against the Wall | 5:46 | 65 | 1 |
| 11. | Listen to the Flies | 4:54 | 75 | 1 |
| 12. | Nothing to Say | 8:35 | 75 | 1 |
Andi Deris

:

Vocals

Sascha Gerstner

:

Guitars

Michael Weikath

:

Guitars

Markus Grosskopf

:

Bass

Mark Cross

:

Drums on Tracks 7 and 11
Guest / session musicians
Olaf Senkbeil

:

Backing Vocals

Rolf Köhler

:

Backing Vocals

Jörn Ellerbrock

:

Keyboards

Mikkey Dee

:

Drums on Tracks 1, 2, 3, 4, 5, 6, 8, 9, 10, 12
Production staff / artist
Roger Mendez

:

Photography

Charlie Bauerfeind

:

Producer, Mixing

Rainer Laws

:

Artwork
Additional notes
Recorded at Mi Sueno Studios.
Produced and mixed for S.C. and Service S.L.

The track "Do You Feel Good" is a track originally written during the The Dark Ride album sessions, but was never used.

Mark Cross was officially part of the Helloween line-up for this album before he came down with Chronic Fatigue Syndrome during production and in the end played drums on only 2 of the tracks ("Listen to the Flies" and "Don't Stop Being Crazy"). Mikkey Dee was brought in as a last-minute replacement on a session basis for the rest of the album. Stefan Schwarzmann played only on the b-sides.

A two-disc compilation containing The Dark Ride and Rabbit Don't Come Easy (12 tracks each, with no bonus tracks) was released by Nuclear Blast Records in 2008. On the back cover a 13th track is listed for the second disc, "13. Far Away", but it's actually missing on the CD.
Rabbit Don't Come Easy Reviews
Reviewer :

Eagles
(

75

/

100

)
오랫동안 함께해온 기타리스트 Roland Grapow와 드러머 Uli Kusch의 탈퇴로 시련을 겪은 Helloween은 새로이 재정비해 앨범을 내놓았다. 어두웠던 전작 The Dark Ride 에서 탈피하여 한층 밝고 경쾌한 연주를 들려주고 있으며 보다 다채로운 사운드로 수놓았다. 전작에서 공동으로 작업했던 Roy Z가 빠지고 Charly Bauerfeind 홀로 프로듀싱을 맡고 있는데 이는 Dark Ride의 어두운 사운드가 Helloween과 맞지 않는다고 판단했기 때문이다. 새로운 멤버로는 Freedom Call 출신의 기타리스트 Sascha Gerstner와 앨범제작 막바지에 정식멤버가 된 드러머 Stefan Schwarzmann이다.

Best Track : Just A Little Sign