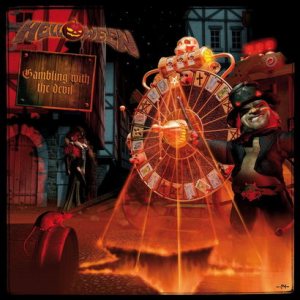 Gambling with the Devil
| | |
| --- | --- |
| Artist | |
| Type | Studio Full-length |
| Released | 2007-10-29 |
| Genres | Power Metal |
| Labels | Steamhammer |
| Length | 57:33 |
Reviews : 0
Comments : 0
Total votes : 0
Rating : -
Have : 0
Want : 0
Gambling with the Devil Information
| | Title | Length | Rating | Votes |
| --- | --- | --- | --- | --- |
| 1. | Crack the Riddle | 0:57 | - | 0 |
| 2. | Kill It | 4:13 | - | 0 |
| 3. | The Saints | 7:06 | - | 0 |
| 4. | As Long as I Fall | 3:41 | 80 | 1 |
| 5. | Paint a New World | 4:27 | 75 | 1 |
| 6. | Final Fortune | 4:46 | - | 0 |
| 7. | The Bells of the Seven Hells | 5:22 | - | 0 |
| 8. | Fallen to Pieces | 5:52 | - | 0 |
| 9. | I.M.E. | 3:46 | - | 0 |
| 10. | Can Do It | 4:30 | - | 0 |
| 11. | Dreambound | 5:57 | - | 0 |
| 12. | Heaven Tells No Lies | 6:56 | - | 0 |
Andi Deris

:

Vocals

Sascha Gerstner

:

Guitars

Michael Weikath

:

Guitars

Markus Grosskopf

:

Bass

Dani Löble

:

Drums
Guest / session musicians
Olaf Senkbeil

:

Backing Vocals

Hacky Hackmann

:

Backing Vocals

Rolf Köhler

:

Backing Vocals

Biff Byford

:

Narration

Matthias "Matz" Ulmer

:

Keyboards

Friedel Amon

:

Keyboards
Production staff / artist
Charlie Bauerfeind

:

Producer, Engineer, Mixing Engineer

Thomas Geiger

:

Engineer

Matthias Bothor

:

Photography

Martin Häusler

:

Artwork, Design
Additional notes
Recorded at Mi Sueno Studio, Tenerife (Spain) and G-Tracks Studio, Ebermannstadt, (Germany) from May to July 2007.
Mixed at Mi Sueno Studio, Tenerife, August 2007.

The individual songwriting credits are missing from the booklet:
Tracks 3, 10 by Weikath
Tracks 5, 11 by Gerstner/Weikath
Tracks 6, 12 by Grosskopf
Tracks 2, 4, 7, 8, 9 by Deris

North American bonus track:
13. Never Surrender (04:51)

Another version includes these two bonus tracks:
13. Find My Freedom (06:30)
14. See The Night (06:10)

The limited first edition of Gambling With the Devil came with a scratch ticket that allowed fans to participate in a draw on the official Helloween website. The first prize was a paid flight for two including accommodation at the band hotel on an American tour date of the Hellish World Tour 2007/2008, while the other prizes included signed guitars and fan packages. Helloween created this contest in order to thank the fans for the successful 2005/2006 Legacy World Tour that was also filmed in the Live on 3 Continents DVD.