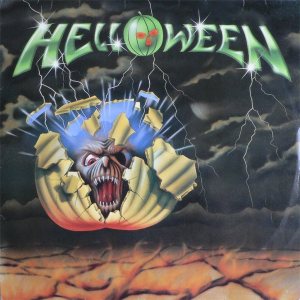 Helloween
| | |
| --- | --- |
| Artist | |
| Type | EP |
| Released | 1985-03 |
| Genres | Power Metal |
| Labels | Noise Records, Banzai |
| Length | 26:29 |
| Ranked | #23 for 1985 , #2,061 all-time |
Added by

Eagles
Last edited by

SludgeLeader
| | Title | Length | Rating | Votes |
| --- | --- | --- | --- | --- |
| 1. | Starlight | 5:18 | 80 | 1 |
| 2. | Murderer | 4:27 | 80 | 1 |
| 3. | Warrior | 4:01 | 75 | 1 |
| 4. | Victim of Fate | 6:39 | 90 | 1 |
| 5. | Cry for Freedom | 6:04 | 85 | 1 |
Kai Hansen

:

Vocals, Guitars

Michael Weikath

:

Guitars

Markus Grosskopf

:

Bass

Ingo Schwichtenberg

:

Drums
Guest / session musicians
Harris Johns

:

Satanic Laughter (Track 4)
Production staff / artist
Uwe Karczewski

:

Cover Art

Harris "I Don't Know" Johns

:

Engineering, Mixing
Additional notes
Recorded and mixed in January/February 1985 at Musiclab Studio, Berlin

Available on the re-release of Walls of Jericho (2006).

"White Christmas" features vocals by Kiske, Weikath and Hansen, while "I'll Be Your Santa Claus" features only Kiske as singer.

Tracks 1 and 5 by Hansen and Weikath, tracks 2, 3 and 4 by Hansen.

The "Happy Happy Halloween" Starlight (track 1) intro is taken from the 1982 American movie Halloween III: Season of the Witch.

The "satanic laughter" in "Victim of Fate" (track 4) is provided by Harris Johns.
Reviewer :

Eagles
(

70

/

100

)
Helloween의 시작을 알리는 역사적인 EP앨범으로 지금의 Gamma Ray 처럼 Kai Hansen이 마이크를 쥐고 있다. 멜로딕함은 그다지 눈에 띄지 않고, 당시 세계적으로 유행하기 시작하던 Thrash Metal에 가까운 사운드를 구사하고 있다. 완성도를 논한다는 것은 다소 무리가 있고 초기 Helloween의 정열적인 열정을 접할 수 있어 앨범을 듣는 동안 지루함은 느껴지지 않는다. 초기명곡 Victim Of Fate와 Helloween의 멜로디 메이킹 능력을 감지해 볼 수 있는 Cry For Freedom 등을 담고 있다.

Best Track : Cry For Freedom