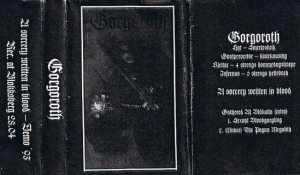 A Sorcery Written in Blood
| | |
| --- | --- |
| Artist | |
| Type | Demo |
| Released | 1993 |
| Genres | Black Metal |
| Labels | Independent |
| Length | 8:56 |
Reviews : 0
Comments : 0
Total votes : 0
Rating : -
Have : 0
Want : 0
Added by

SludgeLeader
A Sorcery Written in Blood Information
| | Title | Length | Rating | Votes |
| --- | --- | --- | --- | --- |
| 1. | Gathered at Blåkulla (intro) | 1:21 | - | 0 |
| 2. | Sexual Bloodgargling | 3:54 | - | 0 |
| 3. | (Under) The Pagan Megalith | 3:41 | - | 0 |
Hat

:

Vocals

Infernus

:

Guitars

Kjettar

:

Bass

Goatpervertor

:

Drums
Additional notes
Recorded at Blokksberg, April 28, 1993.

This demo takes its name from the first line of the song "Return of Darkness and Evil" by Bathory.

Pro-sleeve notes, home dubbed tape.

1994 version: different cover, pro-sleeve notes and pro tape, 3 tracks listed + 2 tracks from promo '94.

"Sexual Bloodgargling" is an early version of the song "Ritual", present on Gorgoroth's first album Pentagram.

A 7" vinyl bootleg also exists. However, there are not any official reissues.