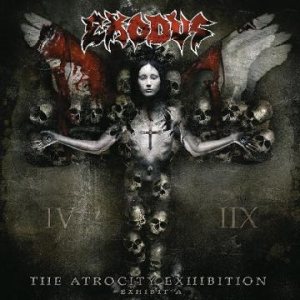 The Atrocity Exhibition... Exhibit A
| | |
| --- | --- |
| Artist | |
| Type | Studio Full-length |
| Released | 2007-10-28 |
| Genres | Thrash Metal |
| Labels | Nuclear Blast, Icarus |
| Length | 1:11:36 |
Reviews : 0
Comments : 0
Total votes : 0
Rating : -
Have : 0
Want : 0
Added by

Eagles
Last edited by

SludgeLeader
The Atrocity Exhibition... Exhibit A Information
| | Title | Length | Rating | Votes |
| --- | --- | --- | --- | --- |
| 1. | Call to Arms | 1:33 | - | 0 |
| 2. | Riot Act | 3:37 | - | 0 |
| 3. | Funeral Hymn | 8:38 | - | 0 |
| 4. | Children of a Worthless God | 8:25 | - | 0 |
| 5. | As It Was, as It Soon Shall Be | 5:16 | - | 0 |
| 6. | The Atrocity Exhibition | 10:33 | - | 0 |
| 7. | Iconoclasm | 7:54 | - | 0 |
| 8. | The Garden Of Bleeding | 5:49 | - | 0 |
| 9. | Bedlam 1-2-3 | 19:51 | - | 0 |
Rob Dukes

:

Vocals, Lyrics (track 4)

Gary Holt

:

Guitars, Lyrics

Lee Altus

:

Guitars

Jack Gibson

:

Bass

Tom Hunting

:

Drums
Production staff / artist
Andy Sneap

:

Producer, Engineering, Mixing

Raymond Anthony

:

Additional Engineering

Seth Siro Anton

:

Artwork

Adam Myatt

:

Assistant Engineering

Kieran Panesar

:

Assistant Mixing

Karyn Crisis

:

Photography
Additional notes
Mixed and mastered at BackStage Studios, Derbyshire, UK.

A video was made for "Riot Act".

Also sold as a limited edition "blood pack" exclusively through Nuclear Blast's European mailorder website. This version is limited to 500 copies and includes a DVD-sized case dripping with "blood", a certificate of authenticity and a hidden bonus track.

The song Bedlam 1-2-3 fades slowly and ends at 7:59 followed by 10 minutes of total silence.
At 18:12 (with 1:39 left to go) a country style version of the title song from their 1985 debut album Bonded by Blood begins. For the country sound of the song it was nicknamed "Bonded by Banjo" or sometimes "Banjoed by Blood".
The song ends with a "Yeehaw!" heard in the background followed by an untitled 6 second hidden track where you can hear ever so slightly in the background someone screaming "That was some heavy shit!" in a barely audible gibberish sounding voice.