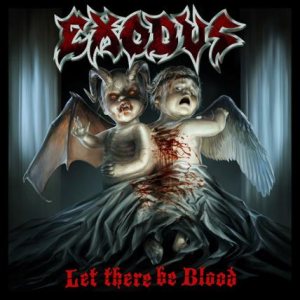 Let There Be Blood
| | |
| --- | --- |
| Artist | |
| Type | Studio Full-length |
| Released | 2008-10-28 |
| Genres | Thrash Metal |
| Labels | Zaentz, Icarus |
| Length | 45:32 |
Reviews : 0
Comments : 0
Total votes : 0
Rating : -
Have : 0
Want : 0
Added by

SludgeLeader
Let There Be Blood Information
| | Title | Length | Rating | Votes |
| --- | --- | --- | --- | --- |
| 1. | Bonded by Blood | 3:36 | - | 0 |
| 2. | Exodus | 4:17 | - | 0 |
| 3. | And Then There Were None | 5:14 | - | 0 |
| 4. | A Lesson in Violence | 3:37 | - | 0 |
| 5. | Metal Command | 4:13 | - | 0 |
| 6. | Piranha | 3:54 | - | 0 |
| 7. | No Love | 5:49 | - | 0 |
| 8. | Deliver Us to Evil | 7:44 | - | 0 |
| 9. | Strike of the Beast | 4:18 | - | 0 |
| 10. | Hell's Breath | 2:50 | - | 0 |
Gary Holt

:

Guitars

Rob Dukes

:

Vocals

Tom Hunting

:

Drums

Lee Altus

:

Guitars

Jack Gibson

:

Bass
Production staff / artist
Karyn Crisis

:

Photography

Mark DeVito

:

Layout

Pär Olofsson

:

Cover Art

Gary Holt

:

Producer

Andy Sneap

:

Mixing, Mastering

Jonnie Zaentz

:

Engineering (Guitars, Bass)

Adam Myatt

:

Engineering (Drums)

Jon Ciorciari

:

Engineering (Vocals)
Additional notes
Mixed and mastered at BackStage Studios, Derbyshire, UK.
All guitar and bass tracks engineered at the JKZ Production Studio in San Rafael, California, USA.
All drum tracks engineered at Sharkbite Studios in Oakland, California, USA.
All vocal tracks engineered at J. Rod Production Studios in New City, New York, USA.

Backup Vocals by Satan's Choir:
JR Maloney, Rob Bylett, Corey Scoolidge, Craig Cefola, Jason Cefola, Ron Roshong, Jim Demaria, Jake Demaria, Nick Demaria, Abigail Demaria, Jasper, Greg Pavarati, Dom Lombardi, BJ Allen, Matt Maloney, Jeff Arnold, Sicks Deep, Dante Scioscia, Rob Mochietti

This is a re-recording of Bonded By Blood, in memory of Paul Baloff.

The track "Hell's Breath" originally appears on the 1983 Rehearsal and never was recorded officially.