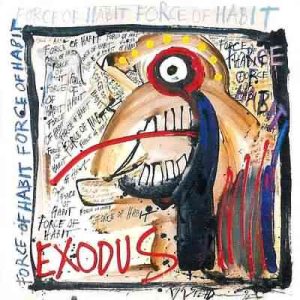 Force of Habit
| | |
| --- | --- |
| Artist | |
| Type | Studio Full-length |
| Released | 1992-08-17 |
| Genres | Thrash Metal |
| Labels | Capitol Records |
| Length | 1:17:36 |
Reviews : 0
Comments : 0
Total votes : 0
Rating : -
Have : 0
Want : 0
Added by

Eagles
Last edited by

SludgeLeader
Force of Habit Information
| | Title | Length | Rating | Votes |
| --- | --- | --- | --- | --- |
| 1. | Thorn in My Side | 4:07 | - | 0 |
| 2. | Me, Myself & I | 5:04 | - | 0 |
| 3. | Force of Habit | 4:19 | - | 0 |
| 4. | Bitch (The Rolling Stones cover) | 2:48 | - | 0 |
| 5. | Fuel for the Fire | 6:04 | - | 0 |
| 6. | One Foot in the Grave | 5:15 | - | 0 |
| 7. | Count Your Blessings | 7:32 | - | 0 |
| 8. | Climb Before the Fall | 5:38 | - | 0 |
| 9. | Architect of Pain | 11:02 | - | 0 |
| 10. | When It Rains It Pours | 4:20 | - | 0 |
| 11. | Good Day to Die | 4:48 | - | 0 |
| 12. | Pump It Up (Elvis Costello cover) | 3:10 | - | 0 |
| 13. | Feeding Time at the Zoo | 4:38 | - | 0 |
| 14. | Crawl Before You Walk (CD bonus track) | 4:01 | - | 0 |
| 15. | Telepathic (CD bonus track) | 4:50 | - | 0 |
Steve "Zetro" Souza

:

Vocals

Gary Holt

:

Guitars

Rick Hunolt

:

Guitars

Mike Butler

:

Bass

John Tempesta

:

Drums
Production staff / artist
Steve Thompson

:

Mixing

Michael Barbiero

:

Mixing

George Marino

:

Mastering

Marc Senasac

:

Additional Engineering, Remix

Chris Tsangarides

:

Producer, Engineering
Additional notes
Produced and engineered at Battery Studios, London.
Mixed at Riversound, New York.
Additional recording and re-mixing at The Plant, Sausalito.

A video was made for "A Good Day to Die".

Writing credits:
"Thorn in My Side", "Force of Habit", and "Fuel for the Fire" by Steve Souza and Gary Holt.
"Me, Myself & I" and "Count Your Blessings" by Holt and Rick Hunolt.
"Bitch" by Keith Richards and Mick Jagger.
"One Foot in the Grave", "Architect of Pain", and "When It Rains It Pours" by Holt.
"Climb Before the Fall" and "Good Day to Die" by Souza, Holt, and Hunolt.
"Pump It Up" by Elvis Costello.
"Feeding Time at the Zoo" by Souza, Holt, Hunolt, Rob McKillop, and John Tempesta.