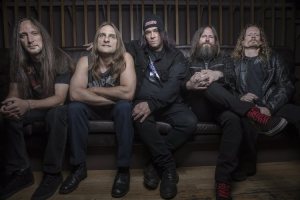 Exodus
Tom Hunting

:

Drums

(1979-1989, 1997-1998, 2001-2005, 2007-)

, Vocals

(1979-1980)

Gary Holt

:

Guitars

(1982-1994, 1997-1998, 2001-)

Steve "Zetro" Souza

:

Vocals

(1986-1992, 2002-2004, 2014-)

Jack Gibson

:

Bass

(1997-1998, 2001-)

Lee Altus

:

Guitars

(2005-)
Carlton Melson

:

Bass

(1979-1980)

Kirk Hammett

:

Guitars

(1979-1983)

Tim Agnello

:

Guitars

(1979-1981)

Jeff Andrews

:

Bass

(1980-1983)

Keith Stewart

:

Vocals

(1980-1981)

Paul Baloff

:

Vocals

(1981-1986, 1993-1994, 1997-1998, 2001-2002)

(R.I.P. 2002)

Rob McKillop

:

Bass

(1983-1991)

Rick Hunolt

:

Guitars

(1983-1994, 1997-1998, 2001-2005)

Mike Maung

:

Guitars

(1983)

Evan McKaskey

:

Guitars

(1983)

(R.I.P. 1989)

John Tempesta

:

Drums

(1990-1994)

Mike Butler

:

Bass

(1992-1994)

Paul Bostaph

:

Drums

(2005-2007)

Rob Dukes

:

Vocals

(2005-2014)
Releases : 31 Total votes : 1 Reviews : 0
Added by

Eagles
Last edited by

SludgeLeader
Additional notes
Exodus was founded by Tom Hunting and Kirk Hammett (later departed to Metallica, having written only some material for the debut album). The band did not release any Hammett-era albums, just two demos (1982 and 1983).

Tom Hunting also did vocals in the very beginning. According to Carlton Melson the first line up was: Hunting, Melson, Hammett and Agnello.

Steve "Zetro" Souza had left the band after about six years with them (1986-1992) due to lack of commitment. Exodus continued playing shows without him until they broke up around 1994 due to behind the scenes issues and changes in musical tastes.

A late 90s comeback with Paul Baloff back in the fold proved to be short-lived, producing only the "Another Lesson in Violence" live album, before a more permanent reformation came about in 2001. After Baloff's tragic death in early 2002, Zetro returned to Exodus and performed on the comeback album, "Tempo of the Damned", before unexpectedly leaving again on the eve of a South American tour in September 2004. Matt Harvey and Steev Esquivel performed as guest vocalists until Rob Dukes was recruited as the new frontman.

Interestingly, Les Claypool of Blind Illusion and Primus, who was a schoolmate and friend of Kirk Hammett's, was asked to join the band as a bass player in 1980, but declined, citing a taste for free-form jazz at the time.