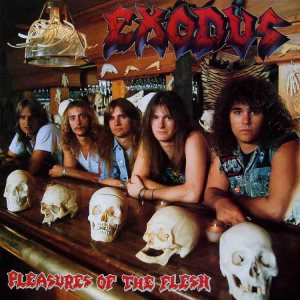 Pleasures of the Flesh
| | |
| --- | --- |
| Artist | |
| Type | Studio Full-length |
| Released | 1987-10-07 |
| Genres | Thrash Metal |
| Labels | Combat Records |
| Length | 46:01 |
Reviews : 0
Comments : 0
Total votes : 0
Rating : -
Have : 0
Want : 0
Added by

Eagles
Last edited by

SludgeLeader
Pleasures of the Flesh Information
| | Title | Length | Rating | Votes |
| --- | --- | --- | --- | --- |
| 1. | Deranged | 3:46 | - | 0 |
| 2. | 'Til Death Do Us Part | 4:50 | - | 0 |
| 3. | Parasite | 4:55 | - | 0 |
| 4. | Brain Dead | 4:15 | - | 0 |
| 5. | Faster than You'll Ever Live to Be | 4:26 | - | 0 |
| 6. | Pleasures of the Flesh | 7:36 | - | 0 |
| 7. | 30 Seconds | 0:39 | - | 0 |
| 8. | Seeds of Hate | 4:57 | - | 0 |
| 9. | Chemi-Kill | 5:46 | - | 0 |
| 10. | Choose Your Weapon | 4:51 | - | 0 |
Steve "Zetro" Souza

:

Vocals

Gary Holt

:

Guitars

Rick Hunolt

:

Guitars

Rob McKillop

:

Bass

Tom Hunting

:

Drums
Guest / session musicians
Michael Pluznick

:

Intro (track 6)
Production staff / artist
Kent Mathieu

:

Cover Art (Pic-LP)

Marc Senasac

:

Producer, Mixing, Engineering

Sylvia Massy

:

Engineering

Mark Whitaker

:

Engineering (drum Tracks)

Bernie Grundman

:

Mastering
Additional notes
Recorded and mixed at Alpha-Omega, S.F.

Trivia:
- Even though Paul Baloff left Exodus about a year before this album was released, he is credited as the co-writer of "Seeds of Hate", "Pleasures of the Flesh" and "Brain Dead".
- The album peaked at #82 on the Billboard 200.
- The lyrics here are taken from the booklet, except for few obvious typos that were corrected.
- The original cover was an illustration of Exodus depicted as cannibals preparing and eating their meal. However, just prior to the album's release, it was replaced by a photograph of the band members sitting in a bar.

Reissues:
- Issued as Pic-LP with originally banned artwork. Limited to 10,000 copies.
- Reissued in 1999 by Century Media.
- Reissued in 2008 by Century Media as a "limited silver edition" remastered in slipcase. This version contains four live tracks as bonus tracks.