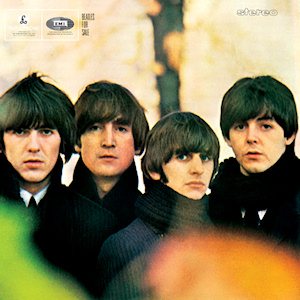 Beatles for Sale Information
| | Title | Length | Rating | Votes |
| --- | --- | --- | --- | --- |
| 1. | No Reply | 2:15 | - | 0 |
| 2. | I'm a Loser | 2:31 | - | 0 |
| 3. | Baby's in Black | 2:02 | - | 0 |
| 4. | Rock and Roll Music | 2:32 | - | 0 |
| 5. | I'll Follow the Sun | 1:46 | - | 0 |
| 6. | Mr. Moonlight | 2:33 | - | 0 |
| 7. | Kansas City/Hey-Hey-Hey-Hey! | 2:33 | - | 0 |
| 8. | Eight Days a Week | 2:44 | - | 0 |
| 9. | Words of Love | 2:12 | - | 0 |
| 10. | Honey Don't | 2:55 | - | 0 |
| 11. | Every Little Thing | 2:01 | - | 0 |
| 12. | I Don't Want to Spoil the Party | 2:33 | - | 0 |
| 13. | What You're Doing | 2:30 | - | 0 |
| 14. | Everybody's Trying to Be My Baby | 2:23 | - | 0 |
John Lennon

:

Vocals, Rhythm and Acoustic Guitars, Piano, Harmonica, Tambourine, Handclaps, 12-string Lead Guitar

Paul McCartney

:

Vocals, Bass Guitar, Acoustic Guitar, Piano, Hammond Organ, Handclaps

George Harrison

:

Vocals, Lead, Acoustic and 12 String Guitars, African Drum, Handclaps

Ringo Starr

:

Drums, Tambourine, Maracas, Timpani, Cowbell, Packing Case, Bongos, Vocals
Guest / session musicians
Production staff / artist
Additional notes
Recorded : 11–14 August, 29 September & 26 October 1964, EMI Studios, London
Beatles for Sale Comments

Kildneybean
(80/100)
Another early Beatles work, and probably one of their weakest. Don't you worry! Cause even their weakest stuff is awesome.

휘루
(75/100)
전작들에 비해 쳐지는 느낌을 받는 곡이 몇 있는데 그것도 그렇지만 비자작곡 역시 자작곡 많은 비중이 커져서 팬들은 Beatles가 변했다고 평가를 하기도 하였다. 특히나 John Lennon의 내면에 있는 표현을 보여주는 가사나 곡을 만들어낸 앨범.

전영민
(75/100)
비틀즈 유일의 와닿지 않았던 앨범 ㅠ 에잇데이스어위크는 명곡!

Burzum
(80/100)
비틀즈 앨범중에 유일하게 별로 안 좋아하는 앨범 어쩌면 다음 앨범부터 미친 음악성을 뽐내기 위해 잠시 정체기 였을지도