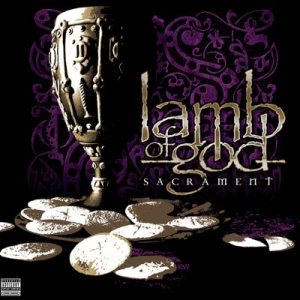 Sacrament
Artist
Type
Studio Full-length
Released

2006-08-22

Genres

Groove Metal

,

Metalcore

Labels
Epic Records
Length
46:12
Reviews : 0
Comments : 0
Total votes : 0
Rating : -
Have : 0
Want : 0
Added by

Angelbeats
Last edited by

SludgeLeader
| | Title | Length | Rating | Votes |
| --- | --- | --- | --- | --- |
| 1. | Walk with Me in Hell | 5:12 | - | 0 |
| 2. | Again We Rise | 4:30 | - | 0 |
| 3. | Redneck | 3:41 | - | 0 |
| 4. | Pathetic | 4:31 | - | 0 |
| 5. | Foot to the Throat | 3:14 | - | 0 |
| 6. | Descending | 3:35 | - | 0 |
| 7. | Blacken the Cursed Sun | 5:28 | - | 0 |
| 8. | Forgotten (Lost Angels) | 3:06 | - | 0 |
| 9. | Requiem | 4:11 | - | 0 |
| 10. | More Time to Kill | 3:37 | - | 0 |
| 11. | Beating on Death's Door | 5:07 | - | 0 |
Randy Blythe

:

Vocals

Willie Adler

:

Guitars

Mark 'Duane' Morton

:

Guitars

John Campbell

:

Bass

Chris Adler

:

Drums
Production staff / artist
K3N

:

Cover Art

Vlado Meller

:

Mastering on "Redneck"

Brian Gardner

:

Mastering

Jim Feeney

:

Pro Tools Assist., Recording (Vocals)

Richard Stoltz

:

Pro Tools

Josh Wilbur

:

Recording (Drums), Pro Tools

Machine

:

Producer, Mixing, Recording
Additional notes
The deluxe edition includes a bonus DVD with two videos for the track "Redneck", a making of the album itself, and an Easter egg video segment titled "Go Karts".

Best Buy exclusive bonus CD (tracks recorded live at XM satellite radio, autumn 2004):
1. Laid to Rest (3:51)
2. Now You've Got Something to Die For (3:41)
3. Omerta (4:26)

Re-released with a bonus disc containing the individual instrument tracks for each song. This version is called the "Producer's Edition".