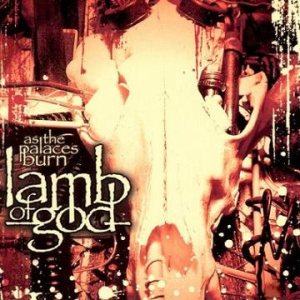 As the Palaces Burn
Artist
Type
Studio Full-length
Released

2003-05-06

Genres

Groove Metal

,

Metalcore

Labels
Prosthetic Records
Length
37:58
Reviews : 0
Comments : 0
Total votes : 0
Rating : -
Have : 0
Want : 0
Added by

Angelbeats
Last edited by

SludgeLeader
As the Palaces Burn Information
| | Title | Length | Rating | Votes |
| --- | --- | --- | --- | --- |
| 1. | Ruin | 3:54 | - | 0 |
| 2. | As the Palaces Burn | 2:24 | - | 0 |
| 3. | Purified | 3:10 | - | 0 |
| 4. | 11th Hour | 3:44 | - | 0 |
| 5. | For Your Malice | 3:43 | - | 0 |
| 6. | Boot Scraper | 4:34 | - | 0 |
| 7. | A Devil in God's Country | 3:14 | - | 0 |
| 8. | In Defense of Our Good Name | 4:10 | - | 0 |
| 9. | Blood Junkie | 4:23 | - | 0 |
| 10. | Vigil | 4:42 | - | 0 |
Randy Blythe

:

Vocals

Willie Adler

:

Guitars

Mark 'Duane' Morton

:

Guitars

John Campbell

:

Bass

Chris Adler

:

Drums
Guest / session musicians
Steve Austin

:

Guitars

Devin Townsend

:

Guitars (on Track 7)

Chris Poland

:

Lead Guitar (on "Purified")
Production staff / artist
Louie Teran

:

Mastering

Shaun Thingvold

:

Mixing

Devin Townsend

:

Producer, Engineering

K3N

:

Cover Art
Additional notes
Catalogue # 10008-2

All songs written, arranged, and performed by LAMB OF GOD
Recorded at Montana, Inc. in Richmond, Virginia
Engineered by Devin Townsend
Produced by Devin Townsend and LAMB OF GOD
Assisted engineers" Dennis Solomon, Grant Rutledge, Dan Kearley, Carla Lewis, Scott Cooke
Mixed by Shaun Thingvold and LAMB OF GOD at Hipposonic studios, Vancouver B.C.
Mastered by Louie Teran at Marcussen Mastering

Music videos were made for the following songs and released in the following order:
1. "11th Hour" - July 19th, 2003
2. "Ruin" - October 18th, 2003
3. "As the Palaces Burn" - March 6th, 2004

The Ozzfest 2004 edition includes music videos for Ruin, As the Palaces Burn and 11th Hour on a bonus DVD.

Also released on a limited number of vinyl records by Prosthetic Records on March 5th, 2004. Then again on a special edition picture disc LP by Blackmarket Activities on May 18th, 2004, which is limited to 2000 hand numbered copies.

A 2-song sampler, catalog no. RTDJ816-2, was released by Prosthetic Records prior to the album to promote it's release. It contains 11th Hour and Ruin.