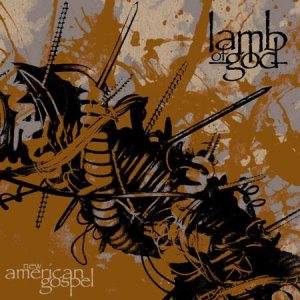 New American Gospel
Artist
Type
Studio Full-length
Released

2000-09-26

Genres

Groove Metal

,

Metalcore

Labels
Prosthetic Records
Length
41:32
Reviews : 0
Comments : 0
Total votes : 0
Rating : -
Have : 0
Want : 0
Added by

Angelbeats
Last edited by

SludgeLeader
New American Gospel Information
| | Title | Length | Rating | Votes |
| --- | --- | --- | --- | --- |
| 1. | Black Label | 4:52 | - | 0 |
| 2. | A Warning | 2:23 | - | 0 |
| 3. | In the Absence of the Sacred | 4:36 | - | 0 |
| 4. | Letter to the Unborn | 2:56 | - | 0 |
| 5. | The Black Dahlia | 3:19 | - | 0 |
| 6. | Terror and Hubris in the House of Frank Pollard | 5:37 | - | 0 |
| 7. | The Subtle Arts of Murder and Persuasion | 4:10 | - | 0 |
| 8. | Pariah | 4:24 | - | 0 |
| 9. | Confessional | 4:01 | - | 0 |
| 10. | O.D.H.G.A.B.F.E. | 5:14 | - | 0 |
Randy Blythe

:

Vocals

Willie Adler

:

Guitars

Duane

:

Guitars

John Campbell

:

Bass

Chris Adler

:

Drums
Guest / session musicians
Steve Austin

:

Guest Vocals on "Terror and Hubris in the House of Frank Pollard"
Production staff / artist
Dave Murello

:

Mastering

Ryan Smith

:

Remastering (reissue 2006)

Steve Austin

:

Producer, Engineer, Mastering

Chris Adler

:

Mixing, Production

K3N

:

Cover Art
Additional notes
Track 10 is an acronymn for "Officer Dick Head Gets a Black Fucking Eye".

Japanese import version (released on March 21, 2001) contains a bonus track entitled "Nippon" (03:55) as well as slightly different packaging

A music video was made for "Black Label". It was originally released exclusivly on the band's webite in July of 2001. Picked up for television syndication in September of 2002. The video was directed/edited by Lamb of God, Will Carsola and Seth Ganz.

Was re-released on April 4, 2006 through Prosthetic Records featuring remastered audio, newly re-imagined artwork by Ken Adams, exclusive liner notes from the band, a "Black Label" music video on an enhanced portion of the CD, and four new bonus tracks. The bonus tracks are as follows:
11. Nippon (03:55)
12. New Willenium ("The Black Dahlia" demo) (03:06)
13. Half-Lid ("A Warning" demo) (02:28)
14. Flux ("Pariah" demo) (04:24)

In Chris Adler's book, "The Making of New American Gospel," speaking about the song "Black Label," Chris states the following about the controversy over the lyrics of the song: "There are no actual lyrics. There may have been a loose concept, but trust me, I was there, there were no lyrics written or read. The vocal tracking for "Black Label" was as close to bleeding a stone as I have ever seen in my life. - There may very well be lyrics to this song at this point, but they are words since drafted and lined up to sound like the noises made into the microphone while tracking the very last bit of the entire recording, the lyrics for "Black Label." To Randy's credit, he had never heard the song before being forced to scat to an arrangement that Steve and I had hastily mapped out. In addition, he had just finished tracking the other nine songs in a row with no breaks."

The song "Letter to the Unborn" contains no lyrics to read in the book of the CD. The song indeed has lyrics but according to Blythe, the song is very personal concerning the death of his daughter with his ex-wife. They were written before she was born. Because of all of this, he didn't want the lyrics to be reprinted or read.