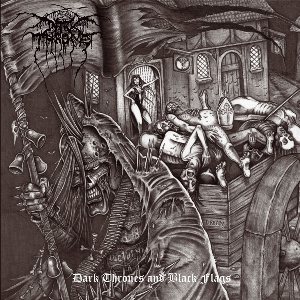 Dark Thrones and Black Flags
Reviews : 0
Comments : 0
Total votes : 0
Rating : -
Have : 0
Want : 0
Added by

DaveÅkerfeldt
Last edited by

Eagles
Dark Thrones and Black Flags Information
| | Title | Length | Rating | Votes |
| --- | --- | --- | --- | --- |
| 1. | The Winds They Called the Dungeon Shaker | 3:51 | - | 0 |
| 2. | Oath Minus | 4:15 | - | 0 |
| 3. | Hiking Metal Punks | 3:21 | - | 0 |
| 4. | Blacksmith of the North | 3:12 | - | 0 |
| 5. | Norway in September | 5:45 | - | 0 |
| 6. | Grizzly Trade | 4:16 | - | 0 |
| 7. | Hanging Out in Haiger | 3:22 | - | 0 |
| 8. | Dark Thrones and Black Flags | 2:24 | - | 0 |
| 9. | Launchpad to Nothingness | 4:30 | - | 0 |
| 10. | Witch Ghetto | 3:55 | - | 0 |
Nocturno Culto

:

Vocals, Guitars, Bass, Lyrics (tracks 2, 4, 9)

Fenriz

:

Drums, Vocals, Guitars, Lyrics (tracks 1, 3, 5-7, 10)
Guest / session musicians
Kjell Arne Hudbreider

:

Vocals (choirs) (track 1)

Mats E. Tannåneset

:

Vocals (choirs) (track 1)
Production staff / artist
Nocturno Culto

:

Producer, Engineer, Mixing Engineer

Dennis Dread

:

Cover Art, Artwork

Einar Sjursø

:

Artwork Concept, Layout

Fenriz

:

Artwork Concept, Photography

Tomas Lindberg

:

Logo
Additional notes
The songs were basically written from summer 2007 'till summer 2008.
Recorded in 4 different sessions from October 2007 'till July 2008 on Necrohell II studio.

The way this album is performed and composed is slightly different from the other Darkthrone releases as Nocturno Culto and Fenriz have shared all the duties from composition to recording, with Fenriz composing guitar parts and Nocturno Culto singing on some songs, etc.

Additional vocals on track 1 by Innlandet Mannskor (N. Culto, Mats E. Tannåneset, Kjell Arne Hudbreider).