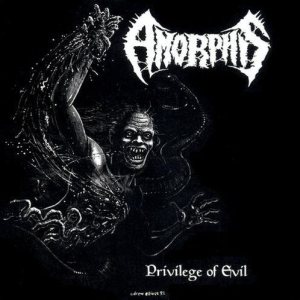 Privilege of Evil
| | |
| --- | --- |
| Artist | |
| Type | EP |
| Released | 1993-12-05 |
| Genres | Death Metal |
| Labels | Relapse Records |
| Length | 22:59 |
Reviews : 0
Comments : 0
Total votes : 0
Rating : -
Have : 0
Want : 0
Added by

SludgeLeader
Privilege of Evil Information
| | Title | Length | Rating | Votes |
| --- | --- | --- | --- | --- |
| 1. | Pilgrimage from Darkness | 4:30 | - | 0 |
| 2. | Black Embrace | 3:23 | - | 0 |
| 3. | Privilege of Evil | 3:48 | - | 0 |
| 4. | Misery Path | 4:15 | - | 0 |
| 5. | Vulgar Necrolatry (Abhorrence cover) | 3:57 | - | 0 |
| 6. | Excursing from Existence | 3:06 | - | 0 |
Tomi Koivusaari

:

Guitars, Vocals

Esa Holopainen

:

Guitars

Olli-Pekka Laine

:

Bass

Jan Rechberger

:

Drums, Keyboards
Guest / session musicians
Jukka Kolehmainen

:

Vocals (Track 5)
Production staff / artist
Timo Tolkki

:

Engineering, Mixing

Drew Elliott

:

Cover Art
Additional notes
Recorded and mixed at TTT Studio, Helsinki, May 1991.
Produced by Amorphis.

Slimcase cd, Relapse Underground Series.

There is also a tape version released by Morbid Noizz Productions (073) in 1995, that include "The Karelian Isthmus" on side A.

Intended to be a split with Incantation. Incantation's half was released 15 years later as Blasphemous Cremation.

Some copies come with one page inlay and others with two page folded inlay with both sides printed.

All these songs (minus #3 and #6) would be re-recorded and used on the band's debut album The Karelian Isthmus:
Track 1 is an early version of "The Pilgrimage".
Tracks 2 and 4 would be re-recorded using the same title.
Track 3 is a re-recording from a song from the band's 1st demo.
Track 5 would also be re-recorded using the same title, but the re-recording would only feature on the debut album as a bonus track.

Tracks 4 and 5 are the same versions as used on the 1992 Amorphis -Single.