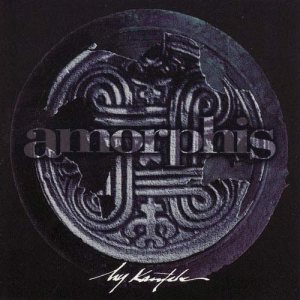 My Kantele
Reviews : 0
Comments : 0
Total votes : 0
Rating : -
Have : 0
Want : 0
Added by

SludgeLeader
| | Title | Length | Rating | Votes |
| --- | --- | --- | --- | --- |
| 1. | My Kantele (Acoustic Reprise) | 5:57 | - | 0 |
| 2. | The Brother-Slayer | 3:37 | - | 0 |
| 3. | The Lost Son (The Brother-Slayer Part II) | 4:36 | - | 0 |
| 4. | Levitation (Hawkwind cover) | 5:52 | - | 0 |
| 5. | And I Hear You Call (Kingston Wall cover) | 4:41 | - | 0 |
Pasi Koskinen

:

Vocals

Tomi Koivusaari

:

Rhythm Guitar, Vocals

Esa Holopainen

:

Lead Guitar

Olli-Pekka Laine

:

Bass

Pekka Kasari

:

Drums

Kim Rantala

:

Keyboards
Guest / session musicians
Mamba

:

Percussion (track 3)
Production staff / artist
Adam Peterson

:

Design

Matthew F. Jacobson

:

Executive Producer

William J. Yurkiewicz Jr.

:

Executive Producer, Mastering

Dave Shirk

:

Mastering

Pete "Pee Wee" Coleman

:

Mixing

Kai "Hiili" Hiilesmaa

:

Producer, Engineering
Additional notes
Produced by Amorphis and Kai "Hiili" Hiilesmaa.
Recorded by Kai "Hiili" Hiilesmaa at MD Studios, Helsinki in December '96.
Mixed Pete "Pee Wee" Coleman at Angelshare Studios, January '97.
Mastered at M Works Mastering Studio, Cambridge, MA by Dave Shirk and Bill Yurkiewicz, February '97.
All arrangements for My Kantele, The Brother-Slayer and The Lost Son by Amorphis.

Licensed to Nuclear Blast Records in Europe (NB 270 2).

There's also a Cass LP version of My Kantele featuring Black Winter Day on the B-side, released by Relapse in 1996.