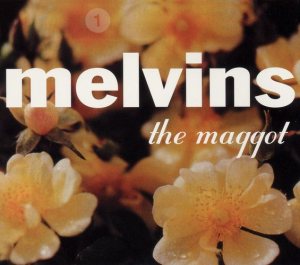 The Maggot
Reviews : 0
Comments : 0
Total votes : 0
Rating : -
Have : 0
Want : 0
Added by

SludgeLeader
| | Title | Length | Rating | Votes |
| --- | --- | --- | --- | --- |
| 1. | amazon | 0:52 | - | 0 |
| 2. | amazon (cont.) | 0:51 | - | 0 |
| 3. | AMAZON | 2:51 | - | 0 |
| 4. | AMAZON (cont.) | 2:54 | - | 0 |
| 5. | We All Love JUDY | 1:14 | - | 0 |
| 6. | We All Love JUDY (cont.) | 1:18 | - | 0 |
| 7. | Manky | 3:41 | - | 0 |
| 8. | Manky (cont.) | 3:47 | - | 0 |
| 9. | The Green Manalishi (With the Two-Pronged Crown)(Fleetwood Mac cover) | 3:26 | - | 0 |
| 10. | The Green Manalishi (With the Two-Pronged Crown) (cont.) | 3:27 | - | 0 |
| 11. | The Horn Bearer | 1:13 | - | 0 |
| 12. | The Horn Bearer (cont.) | 1:15 | - | 0 |
| 13. | Judy | 1:17 | - | 0 |
| 14. | Judy (cont.) | 1:20 | - | 0 |
| 15. | See How Pretty, See How Smart | 4:28 | - | 0 |
| 16. | See How Pretty, See How Smart (cont.) | 6:04 | - | 0 |
Buzz Osborne

:

Guitars, Vocals, Bass

Kevin Rutmanis

:

Bass, Slide Bass, Screaming
Dale Crover

:

Drums, Guitar, Vocals
Production staff / artist
Tim Green

:

Engineer, Producer

Mackie Osborne

:

Artwork
Additional notes
This is part 1 of what is known as 'The Trilogy,' which consists of this album, The Bootlicker, and The Crybaby. All were recorded at the same time.

The CD was created in a strange way, as each song was split practically right in half into 2 tracks. So, "amazon" was on tracks 1 and 2, "Amazon" was on tracks 3 and 4, and so on, as the tracklisting here shows. Although, the final song, "See How Pretty, See How Smart" had 2 different length tracks, but the song was all of track 15 (about 4:28) and only the first 4:30 (or so) of track 16. There is a hidden track, a preview for the song "Toy" off of the 'The Bootlicker' album (part 2 of the 'Trilogy').

Note: "amazon" and "Amazon" are NOT the same song. They are completely different.