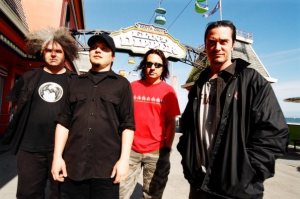 Fantômas
Mike Patton

:

Vocals, Noises

(1998-)

Buzz Osborne

:

Guitars

(1998-)

Trevor Dunn

:

Bass

(1998-)

Dave Lombardo

:

Drums

(1998-)
Kevin Rutmanis

:

Bass

Dale Crover

:

Drums

Dave Stone

:

Guitars
Releases : 10 Total votes : 0 Reviews : 0
Added by

SludgeLeader
Last edited by

SludgeLeader
Additional notes
Fantômas is the name of a well known villain in French culture, who appeared in a series of novels and movies in the early 20th century.

In the very early days, the band's name was originally spelled Phantomas but was changed by Mike Patton, after a close friend of his predicted bad fortune in the future unless the name was changed. Superstition got the better of him, and the name was changed to Fantômas.

The band has very few songs with actual lyrics, most of the vocals are "gibberish" improvised by vocalist Mike Patton.