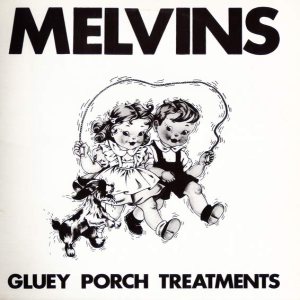 Gluey Porch Treatments
Reviews : 0
Comments : 0
Total votes : 0
Rating : -
Have : 0
Want : 0
Added by

SludgeLeader
Gluey Porch Treatments Information
| | Title | Length | Rating | Votes |
| --- | --- | --- | --- | --- |
| 1. | Eye Flys | 6:15 | - | 0 |
| 2. | Echo Head | 1:26 | - | 0 |
| 3. | Don't Piece Me | 1:27 | - | 0 |
| 4. | Heater Moves and Eyes | 3:54 | - | 0 |
| 5. | Steve Instant Newman | 1:31 | - | 0 |
| 6. | Influence of Atmosphere | 1:51 | - | 0 |
| 7. | Exact Paperbacks | 0:51 | - | 0 |
| 8. | Happy Grey or Black | 2:01 | - | 0 |
| 9. | Leeech | 2:32 | - | 0 |
| 10. | Glow God | 0:51 | - | 0 |
| 11. | Big as a Mountain | 0:57 | - | 0 |
| 12. | Heaviness of the Load | 3:06 | - | 0 |
| 13. | Flex with You | 0:54 | - | 0 |
| 14. | Bitten into Sympathy | 1:44 | - | 0 |
| 15. | Gluey Porch Treatments | 0:48 | - | 0 |
| 16. | Clipping Roses | 0:49 | - | 0 |
| 17. | As Was It | 2:51 | - | 0 |
| 18. | Over from Under the Excrement | 4:39 | - | 0 |
Buzz Osborne

:

Vocals, Guitars

Matt Lukin

:

Bass, Vocals
Dale Crover

:

Drums
Production staff / artist
Carl Herlofsson

:

Producer, Mixing

Mark Deutrom

:

Producer

David Musgrove

:

Engineering

Mackie Osborne

:

Art (reissue)
Additional notes
Recorded October 1986 at Studio D, Sausilito, CA.
Mixed at Starlight, Richmond, CA.

Trivia:
-"Leeech" was originally by the proto-grunge act Green River (as "Leech"). It was later given to the Melvins when Green River realized that it had little value in their live set.
-"Steve Instant Newman" and "As Was It" are re-recordings from the Six Songs EP.