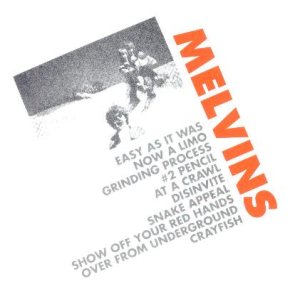 10 Songs
Reviews : 0
Comments : 0
Total votes : 0
Rating : -
Have : 0
Want : 0
Added by

SludgeLeader
| | Title | Length | Rating | Votes |
| --- | --- | --- | --- | --- |
| 1. | Easy as It Was | 2:56 | - | 0 |
| 2. | Now a Limo | 1:01 | - | 0 |
| 3. | Grinding Process | 2:42 | - | 0 |
| 4. | #2 Pencil | 3:16 | - | 0 |
| 5. | At a Crawl | 3:08 | - | 0 |
| 6. | Disinvite | 1:28 | - | 0 |
| 7. | Snake Appeal | 1:43 | - | 0 |
| 8. | Show Off Your Red Hands | 3:02 | - | 0 |
| 9. | Over from the Underground | 2:27 | - | 0 |
| 10. | Crayfish | 3:06 | - | 0 |
Additional notes
Compilation of the band's early recordings from 1986. Due to the fact that this was recorded in 1986, it is sometimes referred to as the first Melvins album, but obviously, this is incorrect.

On vinyl, it is titled "8 Songs" (also released in 1991), not containing the last two tracks.

Re-released in 2003 as the first half of "26 Songs".