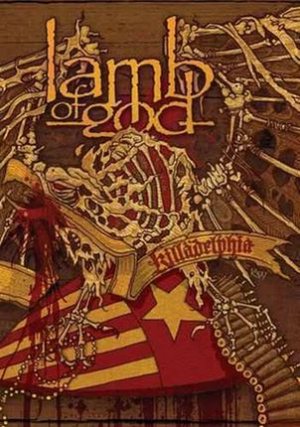 Killadelphia
Reviews : 0
Comments : 0
Total votes : 0
Rating : -
Have : 0
Want : 0
Added by

SludgeLeader
| | Title | Length | Rating | Votes |
| --- | --- | --- | --- | --- |
| 1. | Intro | 0:45 | - | 0 |
| 2. | Laid to Rest | 3:49 | - | 0 |
| 3. | On the Road | 5:35 | - | 0 |
| 4. | Hourglass | 3:52 | - | 0 |
| 5. | Goddamn! | 2:44 | - | 0 |
| 6. | As the Palaces Burn | 2:34 | - | 0 |
| 7. | Late to Denver | 2:25 | - | 0 |
| 8. | Now You've Got Something to Die For | 3:41 | - | 0 |
| 9. | I'm Not Willie! | 3:44 | - | 0 |
| 10. | 11th Hour | 3:49 | - | 0 |
| 11. | Terror and Hubris | 5:45 | - | 0 |
| 12. | The Brandy and Randy Show | 4:07 | - | 0 |
| 13. | Ruin | 3:51 | - | 0 |
| 14. | Wine Soundcheck | 4:04 | - | 0 |
| 15. | Omerta | 4:52 | - | 0 |
| 16. | Death from Above | 4:28 | - | 0 |
| 17. | Pariah | 4:18 | - | 0 |
| 18. | We've Gone Completely Batty! | 3:09 | - | 0 |
| 19. | The Faded Line | 4:26 | - | 0 |
| 20. | English Coffee | 4:05 | - | 0 |
| 21. | Bloodletting | 2:12 | - | 0 |
| 22. | Adventures in the UK | 3:54 | - | 0 |
| 23. | The Subtle Arts of Murder and Persuasion | 4:05 | - | 0 |
| 24. | Glasgow | 8:43 | - | 0 |
| 25. | Vigil | 4:12 | - | 0 |
| 26. | Afterthoughts | 3:15 | - | 0 |
| 27. | What I've Become | 3:28 | - | 0 |
| 28. | Wrapup | 1:12 | - | 0 |
| 29. | Black Label | 4:49 | - | 0 |
| 30. | Outro / Credits | 5:51 | - | 0 |
Randy Blythe

:

Vocals

Mark Morton

:

Guitars

Willie Adler

:

Guitars

John Campbell

:

Bass

Chris Adler

:

Drums
Production staff / artist
Mark Wilder

:

Mastering

Mike Cassel

:

Recording (assistant)

Mike Hickey

:

Recording

K3N

:

Cover Art, Design

Machine

:

Mixing, Mastering

Doug Spangenberg

:

Director, Producer, Editing

Maria Triana

:

Mastering (assistant)
Additional notes
Live concert footage portion was shot at the Trocadero in Philadelphia, on October 16 and 17, 2004.

Audio options:
Dolby 2.0
Dolby 5.1
(Audio Commentary) Dolby 2.0

Directed by Doug Spangenberg of High Roller Studios.

Extras include hours of uncensored, behind-the-scenes footage taken from the "Ashes of Wake" tours.

The intro heard before the live performance is a reading of a section of the Quran called "Ar-Rahman" (The Most Gracious), read by Sheikh Abdul Rahman Al-Sudais.

On December 13th, 2005, "Killadelphia" was released with an audio CD version of the live concert included in the DVD package.