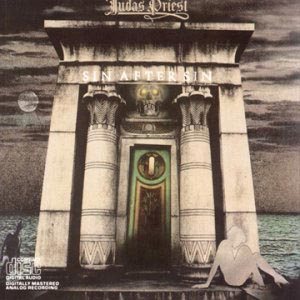 Sin After Sin Information
| | Title | Length | Rating | Votes |
| --- | --- | --- | --- | --- |
| 1. | Sinner | 6:45 | 95 | 1 |
| 2. | Diamonds And Rust (Joan Baez cover) | 3:28 | 90 | 1 |
| 3. | Starbreaker | 4:53 | 90 | 1 |
| 4. | Last Rose Of Summer | 5:40 | 85 | 1 |
| 5. | Let Us Prey / Call For The Priest | 6:14 | 80 | 1 |
| 6. | Raw Deal | 7:11 | 80 | 1 |
| 7. | Here Come The Tears | 3:26 | 80 | 1 |
| 8. | Dissident Aggressor | 3:09 | 90 | 1 |
Guest / session musicians
Production staff / artist
Roger Glover

:

Producer

Mark Dodson

:

Engineering

Roslav Szaybo

:

Art Direction

Bob Carlos Clarke

:

Photography, Design
Additional notes
2001 Remastered version bonus track :
9. Race With The Devil
10. Jawbreaker (live)

Recorded : Ramport Studios, Battersea, London, England, January, 1977
Mixed : Wessex Studios, Highbury, London, England

Single :
Diamonds And Rust/Dissident Aggressor (May 1977, CBS)

Certification : RIAA Gold November 10, 1989
Chart position : UK #23, Sweden #49
Reviewer :

LORDOSOLIVAIS
(

75

/

100

)
After the critical but not commercial success of Sad Wings of Destiny, Judas Priest released Sin After Sin almost exactly a year later. Sin after Sin has a similar sound to its predecessor but there are a few nuances. First of all, if Im not mistaken, there is no more Piano. In other words, no more cool experimentation. Secondly, the rhythm section (or at least the drums) sound different. Thats because drummer Alan Moore (I found his name) was replaced by Lez Binks. Mr. Binks here used a little something that is abused by modern metal bands called a double bass pedal. Therefore, Binks was playing completely different beats from what Moore used to play; his beats sound more like metal and less like rock. K.K. Downing and Glenn Tiptons lead work is still outstanding and sounds awesome. It is the same case with Rob Halfords vocals. Well, their drummer is better and the rest of the band is ahead of their game as always. Now that they have defined their style shouldnt this be a remarkable album that will be remembered as one of the greatest metal albums of all time (or something like that)? Well, no. Not really at all. The album is decent with its share of heavy tunes but it falls short. The softer tracks are not powerful or moving enough and are rather dull.
Reviewer :

Eagles
(

85

/

100

)
메이저 레이블인 CBS에서 처음으로 공개되는 작품으로 레코딩 연습 도중에 드러머 "Alan Moore"가 그룹을 등져 명 세션 드러머 "Simon Philips"를 기용하여 본작 "Sin After Sin"을 완성시켰다. 아직 Heavy Metal이라 부를 만한 형식을 갖추진 못했으나 Judas Priest 특유의 사운드가 앨범을 거듭할수록 자리 잡아가고 있다. 명곡 "Sinner"와 "Dissident Aggressor"를 담고 있으며 Deep Purple 출신의 Roger Glover와 Judas Priest가 공동으로 프로듀싱하였다. "Rocka Rolla", "Point of Entry" 앨범들과 더불어 밴드의 초중반 앨범들 중에서는 그다지 높은 평가를 받지 못하는 앨범이다.

Best track : Sinner , Diamonds and Rust , Starbreaker , Dissident Aggressor

Up The Irons!
(75/100)
앨범커버는 끝내주는구나

DaveÅkerfeldt
(80/100)
상당히 메탈에 가까워졌다, 라이브로 들으면 난리나는 곡들도 여러개 수록되어있다, Dissident Aggressor 는 초창기 주다스 곡들 중 최고다,