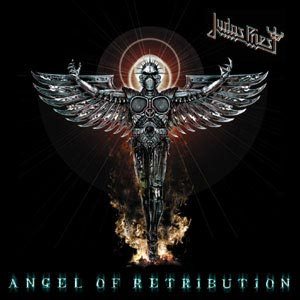 Angel of Retribution
| | |
| --- | --- |
| Artist | |
| Type | Studio Full-length |
| Released | 2005-02-28 |
| Genres | Heavy Metal |
| Labels | Epic Records |
| Length | 52:44 |
| Ranked | #43 for 2005 , #1,157 all-time |
Angel of Retribution Information
| | Title | Length | Rating | Votes |
| --- | --- | --- | --- | --- |
| 1. | Judas Rising | 4:13 | 90 | 1 |
| 2. | Deal With the Devil | 3:54 | 95 | 1 |
| 3. | Revolution | 4:43 | 80 | 1 |
| 4. | Worth Fighting For | 4:19 | 85 | 1 |
| 5. | Demonizer | 4:38 | 90 | 1 |
| 6. | Wheels of Fire | 3:47 | 85 | 1 |
| 7. | Angel | 4:24 | 90 | 1 |
| 8. | Hellrider | 6:23 | 95 | 1 |
| 9. | Eulogy | 2:53 | 80 | 1 |
| 10. | Lochness | 13:30 | 100 | 1 |
Guest / session musicians
Production staff / artist
Roy Z

:

Producer, Engineering, Mixing

Stan Katayama

:

Mixing Engineer

Tom Baker

:

Mastering Engineer

Mark Wilkinson

:

Cover Art
Angel of Retribution Reviews
Reviewer :

LORDOSOLIVAIS
(

80

/

100

)
Tracks where Priest doesn't copy features from their early work all that much, however, don't turn out too well. The uninteresting Revolution and unnecessary intro song Eulogy unfortunately make for 2 other unmemorable songs. Loch Ness is an attempt at creating a 13-minute epic a la Rime of the Ancient Mariner, but the chorus is so idiotically cheesy it ruins the potential of the entire song that could have been an excellent closer. These kind of weak moments show that Priest's comeback album should have been a simple and catchy affair throughout, as its strengths certainly lie in tracks such as Judas Rising, Deal With the Devil, Wheels of Fire, Demonizer and Hellrider, of which especially the last one will make a great live performance with its sing-along potential. Despite containing too many weaker tracks than is likeable, Angel of Retribution's good moments luckily outshine the bad.
Angel of Retribution Comments

Up The Irons!
(85/100)
Deal With The Devil은 질주감도 있고 시원한데 왜 이 앨범에 혹평들을....

deicide666
(80/100)
롭옹의 귀환! 하지만 전성기때만큼 안나와줘서 아쉽다.ㅠ

Eagles
(90/100)
현대적인 느낌이 다소 가미된 묵직한 정통 헤비메탈 사운드. 웅장함과 드라이브감도 표출됨. 연주력, 작곡력, 멜로디 메이킹 등 많은 요소들이 전반적으로 높은 수준을 유지하고 있음.