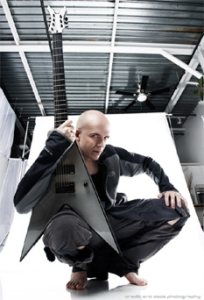 Devin Townsend
a.k.a.
Devin Garret Townsend
Country

Canada

Born
May 5, 1972, New Westminster, British Columbia, Canada

(age 50)

Member of
Strapping Young Lad

(1994-1998, 2002-2007)


The Devin Townsend Band

(2003-2007)


Devin Townsend Project

(2009-2018)


Casualties of Cool

(2013-2014)

Occupations
Musician, Singer-songwriter, Producer
Instruments
Vocals, Guitars, Bass, Keyboards, Programming
Currently

Vancouver, British Columbia, Canada

Genres

Progressive Rock

,

Progressive Metal

,

Avant-garde Metal

Labels
HevyDevy Records
Years active
1997-present
Releases : 27 Total votes : 0 Reviews : 0
Added by

Eagles
Last edited by

SludgeLeader
Devin Townsend Discography
Additional notes
Accelerated Evolution and Synchetra were released as The Devin Townsend Band, and featured a steady a line-up that also joined Devin on tour. The idea was to draw a firmer line between his solo material and Strapping Young Lad. When The Devin Townsend Band was active, Devin released two ambient albums under his own name.

In May of 2007, at a press conference for Ziltoid the Omniscient, Devin announced that he had decided to put an end to The Devin Townsend Band and Strapping Young Lad, and not to tour again in the future.

A few years later he later formed Devin Townsend Project, which runs concurrent to this one, and returned to the live environment.