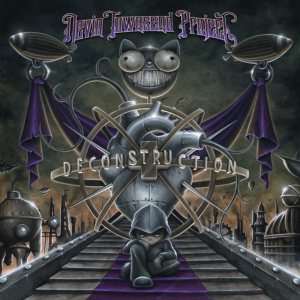 Deconstruction
Reviews : 0
Comments : 0
Total votes : 0
Rating : -
Have : 0
Want : 0
Added by

SludgeLeader
Deconstruction Information
| | Title | Length | Rating | Votes |
| --- | --- | --- | --- | --- |
| 1. | Praise the Lowered | 6:02 | - | 0 |
| 2. | Stand | 9:36 | - | 0 |
| 3. | Juular | 3:46 | - | 0 |
| 4. | Planet of the Apes | 10:59 | - | 0 |
| 5. | Sumeria | 6:37 | - | 0 |
| 6. | The Mighty Masturbator | 16:28 | - | 0 |
| 7. | Pandemic | 3:29 | - | 0 |
| 8. | Deconstruction | 9:27 | - | 0 |
| 9. | Poltergeist | 4:25 | - | 0 |
Devin Townsend

:

Vocals, Guitars, Bass, Keyboards, Synthesizer, Programming
Guest / session musicians
The City of Prague Philharmonic Orchestra

:

Orchestra

Richard Hein

:

Conductor (orchestra)

Rogier Vuijk

:

Choir (bass)

Job Hubatka

:

Choir (bass)

Gijs Klunder

:

Choir (bass)

Coert Van Den Berg

:

Choir (bass)

Angus Van Grevenbroek

:

Choir (bass)

Ruben De Grauw

:

Choir (tenor)

Koert Braches

:

Choir (tenor)

Daan Verlaan

:

Choir (tenor)

Albert Edelman

:

Choir (tenor)

Maria Van Nieukerken

:

Conductor (choir)

Fokko Oldenhuis

:

Conductor (choir)

Natascha Morsink

:

Choir (alto)

Karen Langendonk

:

Choir (alto)

Fredrik Thordendal

:

Guitars (on Track 8)

Dave Brockie

:

Vocals (additional) (on Track 8)

Floor Jansen

:

Vocals (additional) (on Track 7)

Greg Puciato

:

Vocals (additional) (on Track 6)

Paul Masvidal

:

Vocals (additional) (on Track 5)

Tommy Rogers

:

Vocals (additional) (on Track 4)

Joe Duplantier

:

Vocals (additional) (on Track 5)

Ihsahn

:

Vocals (additional) (on Track 3)

Mikael Åkerfeldt

:

Vocals (additional) (on Track 2)

Paul Kuhr

:

Vocals (additional) (on Track 1)

Inga Schneider

:

Choir (alto)

Ella Rombouts

:

Choir (alto)

Annette Vermeulen

:

Choir (alto)

Silvia Da Silva Martinho

:

Choir (soprano)

Mariska Van Der Meij

:

Choir (soprano)

Isabel Delemarre

:

Choir (soprano)

Annemieke Nuijten

:

Choir (soprano)

Alfrun Schmid

:

Choir (soprano)

Ryan Van Poederooyen

:

Drums (on Tracks 1, 2, 4, 5)

Dirk Verbeuren

:

Drums (on Tracks 3, 5-9)
Production staff / artist
Manuel Cooymans

:

Engineering (choir)

Jan Holzner

:

Recording (orchestra)

Anthony Clarkson

:

Artwork

Adam Wills

:

Photography

Troy Glessner

:

Mastering

Sheldon Zaharko

:

Recording (drums)

Morean

:

Engineering (orchestra), Orchestration, Transcriptions

Adrian Mottram

:

Additional Engineering

Mike St-Jean

:

Additional Engineering, Transcriptions, Photography

Mike Young

:

Editing, Engineering
Devin Townsend

:

Producer

Jens Bogren

:

Mixing
Additional notes
Slipcase cover on the left.

A video was made for "Juular".

Itunes bonus track:
10. Ho Krll (05:58)

Another song was recorded during the "Deconstruction" album sessions, titled "Terrorizer" (2:32). The song was included on the "Fear Candy - Vol 100" CD that came with the November 2011 issue of the UK metal magazine "Terrorizer" (issue #216).
Devin Townsend Project Discography