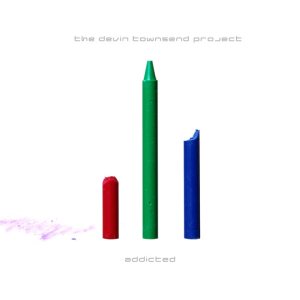 Addicted
Reviews : 0
Comments : 0
Total votes : 0
Rating : -
Have : 0
Want : 0
Added by

SludgeLeader
| | Title | Length | Rating | Votes |
| --- | --- | --- | --- | --- |
| 1. | Addicted! | 5:36 | - | 0 |
| 2. | Universe in a Ball! | 4:09 | - | 0 |
| 3. | Bend It like Bender! | 3:37 | - | 0 |
| 4. | Supercrush! | 5:13 | - | 0 |
| 5. | Hyperdrive! | 3:36 | - | 0 |
| 6. | Resolve! | 3:12 | - | 0 |
| 7. | Ih-ah! | 3:45 | - | 0 |
| 8. | The Way Home! | 3:14 | - | 0 |
| 9. | Numbered! | 4:55 | - | 0 |
| 10. | Awake!! | 9:44 | - | 0 |
Anneke Van Giersbergen

:

Lead Vocals, Backing Vocals
Devin Townsend

:

Vocals, Guitars, Keyboards, Programming

Mark Cimino

:

Guitars

Brian Waddell

:

Bass

Ryan Van Poederooyen

:

Drums
Guest / session musicians
Dave Young

:

Additional Keyboards

Susanne Richter

:

Additional Vocals (on "Ih-ah!")
Production staff / artist
Additional notes
Gang vocals by Rob Cunningham, Hugh Gilmartin, John Rafferty, Brian Johnson, Devin Townsend, Beav, Ryan Van Poederooyen and Mark Cimino.

"Hyperdrive" is a re-working of a song from the Devin Townsend album 'Ziltoid the Omniscient.'

A video was made for "Bend It Like Bender!".

American release at November 17th by InsideOut Music (cat. # 0507-2)

Released on double LP by Back On Black. First press of 1000 on red vinyl.
Devin Townsend Project Discography