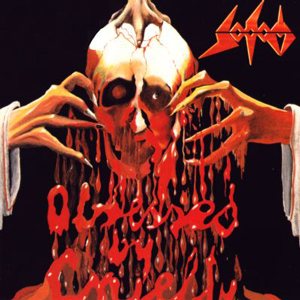 Obsessed by Cruelty
| | |
| --- | --- |
| Artist | |
| Type | Studio Full-length |
| Released | 1986-05 |
| Genres | Thrash Metal |
| Labels | Metal Blade Records, Banzai |
| Length | 37:52 |
Reviews : 0
Comments : 0
Total votes : 0
Rating : -
Have : 0
Want : 0
Added by

Eagles
Last edited by

SludgeLeader
Obsessed by Cruelty Information
| | Title | Length | Rating | Votes |
| --- | --- | --- | --- | --- |
| 1. | Intro (The Rebirth...) | 1:54 | - | 0 |
| 2. | Deathlike Silence | 5:06 | - | 0 |
| 3. | Brandish the Sceptre | 2:56 | - | 0 |
| 4. | Proselytism Real | 3:31 | - | 0 |
| 5. | Equinox | 3:32 | - | 0 |
| 6. | Obsessed by Cruelty | 5:47 | - | 0 |
| 7. | Fall of Majesty Town | 4:01 | - | 0 |
| 8. | Nuctemeron | 3:00 | - | 0 |
| 9. | Pretenders to the Throne | 2:39 | - | 0 |
| 10. | Witchhammer | 2:05 | - | 0 |
| 11. | Volcanic Slut | 3:21 | - | 0 |
Angel Ripper

:

Vocals, Bass

Destructor

:

Guitars

Witch Hunter

:

Drums, Percussion
Production staff / artist
Bobby Bachinger

:

Engineering

Reinhard Wieczorek

:

Cover Art

Tom Angelripper

:

Cover Design

Chris Witchhunter

:

Cover Design

David Klammer

:

Photography

Rainer Hänsel

:

Producer
Additional notes
Obsessed by Cruelty was actually recorded twice, and both versions of the album were released in different territories due to an error by the record company. The first session was recorded in Berlin, supposedly by Horst Müller, with Destructor as the guitarist. The record company deemed the recording quality to be too poor for the album to be released, so all the tracks, as well as a new one called "After the Deluge", were recorded again at Studio Hilpoltstein (near Nuremberg) by Bobby Bachinger, with a new guitarist called Ahäthoor (aka Assator).

The original, rejected, recording from Berlin was accidentally used on the original US edition, released by Metal Blade, and most editions of the album on all formats. Only the European Steamhammer edition of the LP seems to contain the second recording from Studio Hilpoltstein with the additional "After the Deluge" track.

Note: The 1988 re-release combines the "In The Sign Of Evil" EP and the US version, not the European version of "Obsessed By Cruelty", i.e. the track listing is wrong, as this CD does not include "After The Deluge" and there is no "After The Deluge / Obsessed By Cruelty" medley either!

01. Intro - Outbreak of Evil (0:14)
02. Outbreak of Evil (4:34)
03. Sepulchral Voice (4:31)
04. Blasphemer (3:05)
05. Witching Metal (3:13)
06. Intro - Burst Command Til War (0:38)
07. Burst Command Til War (2:43)
08. Outro - Burst Command Til War (0:15)
09. Intro - Deathlike Silence (1:53)
10. Deathlike Silence (5:06)
11. Brandish the Scepter (2:56)
12. Proselytism Real (3:31)
13. Equinox (3:32)
14. Volcanic Slut (3:21)
15. Obsessed by Cruelty (5:47)
16. Fall of Majesty Town (4:01)
17. Nuctemeron (3:00)
18. Pretenders to the Throne (2:39)
19. Witchhammer (2:02)

Re-released in 2000 together with "Persecution Mania" and "In the Sign of Evil" as "2 Originals of Sodom".