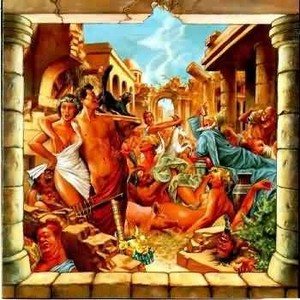 Mortal Way of Live
| | |
| --- | --- |
| Artist | |
| Type | Live album |
| Released | 1988-10-01 |
| Genres | Thrash Metal |
| Labels | Steamhammer, Roadrunner Records |
| Length | 1:12:05 |
Reviews : 0
Comments : 0
Total votes : 0
Rating : -
Have : 0
Want : 0
Added by

Eagles
Last edited by

SludgeLeader
Mortal Way of Live Information
| | Title | Length | Rating | Votes |
| --- | --- | --- | --- | --- |
| 1. | Persecution Mania | 4:44 | - | 0 |
| 2. | Outbreak of Evil | 3:46 | - | 0 |
| 3. | Conqueror | 3:00 | - | 0 |
| 4. | Iron Fist (Motörhead cover) | 2:56 | - | 0 |
| 5. | Obsessed by Cruelty | 8:54 | - | 0 |
| 6. | Nuclear Winter | 5:55 | - | 0 |
| 7. | Electrocution | 3:06 | - | 0 |
| 8. | Blasphemer | 6:00 | - | 0 |
| 9. | Enchanted Land | 4:15 | - | 0 |
| 10. | Sodomy & Lust | 5:02 | - | 0 |
| 11. | Christ Passion | 6:24 | - | 0 |
| 12. | Bombenhagel | 6:40 | - | 0 |
| 13. | My Atonement | 5:57 | - | 0 |
| 14. | Conjuration | 5:26 | - | 0 |
Tom Angelripper

:

Bass, Vocals

Frank Blackfire

:

Guitars, Additional Vocals

Chris Witchhunter

:

Drums
Production staff / artist
Frank Bornemann

:

Co-Producer, Mixing

André Gierre

:

Mixing

Sebastian Krüger

:

Cover Art
Additional notes
Recorded during the Sodomania tour in April and May of 1988.

The original cover art was censored, and CD versions of the album have a black cover with a white circle featuring the band logo, title, and a notation about the inclusion of a bonus track, which is:
14. Conjuration [5:26]

The booklet is a one-sheet folded cover, easily reversible revealing the cover as it "should be"; leaving it to the purchaser to decide which front cover to use.