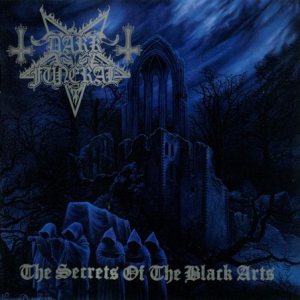 The Secrets of the Black Arts
| | |
| --- | --- |
| Artist | |
| Type | Studio Full-length |
| Released | 1996-01-28 |
| Genres | Black Metal |
| Labels | No Fashion Records |
| Length | 40:53 |
Reviews : 0
Comments : 0
Total votes : 0
Rating : -
Have : 0
Want : 0
Added by

Eagles
Last edited by

SludgeLeader
The Secrets of the Black Arts Information
| | Title | Length | Rating | Votes |
| --- | --- | --- | --- | --- |
| 1. | The Dark Age Has Arrived | 0:16 | - | 0 |
| 2. | The Secrets of the Black Arts | 3:42 | - | 0 |
| 3. | My Dark Desires | 3:47 | - | 0 |
| 4. | The Dawn No More Rises | 4:00 | - | 0 |
| 5. | When Angels Forever Die | 4:07 | - | 0 |
| 6. | The Fire Eternal | 3:55 | - | 0 |
| 7. | Satan's Mayhem | 4:54 | - | 0 |
| 8. | Shadows over Transylvania | 3:41 | - | 0 |
| 9. | Bloodfrozen | 4:21 | - | 0 |
| 10. | Satanic Blood (Von cover) | 2:11 | - | 0 |
| 11. | Dark Are the Paths to Eternity (A Summoning Nocturnal) | 5:59 | - | 0 |
Themgoroth

:

Bass, Vocals

Blackmoon

:

Guitars, Vocals (track 10)

Lord Ahriman

:

Guitars

Equimanthorn

:

Drums
Production staff / artist
Necrolord

:

Cover Art

Peter Tägtgren

:

Producer, Mixing
Additional notes
Originally recorded at Dan Swanö's Unisound Studios but the band did not like the dull sound so it was re-recorded at Peter Tägtgren's The Abyss in June 1995.

Also released in 1996 by No Fashion Records as limited edition Digipak.

Released in the US by Necropolis Records on gatefold vinyl albums limited to 500 copies, printed by them under the label name Necrohell.

Cover art taken from a painting by German 19th-century painter Caspar David Friedrich.
The 2007 Regain Records reissue (limited to 3000 copies, catalog number REG-CD-1013) and 2007 reissue by the band in Digipak (catalog number DF001) comes with a bonus disc containing the original recording of the album at Unisound Studios:

Tracklist:
1. Shadows over Transylvania 3:22
2. The Dawn No More Rises 3:35
3. The Secrets of the Black Arts 3:23
4. Satans Mayhem 4:36
5. Bloodfrozen 3:34
6. My Dark Desires 3:11
7. Dark Are the Path to Eternity (A Summoning Nocturnal) 5:29
8. The Fire Eternal 3:41
9. Call from the Grave 4:31.

The 2010 Back on Black vinyl-reissue comes with a bonus 12" containing the same Unisound Recording but without track 9 "Call From the Grave".

Re-released by Century Media in 2013.

A music video was made for "The Secrets of the Black Arts".