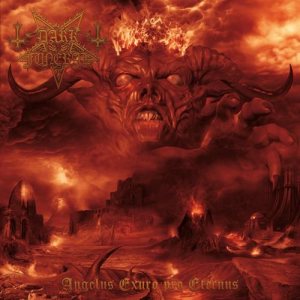 Angelus Exuro pro Eternus
| | |
| --- | --- |
| Artist | |
| Type | Studio Full-length |
| Released | 2009-11-18 |
| Genres | Black Metal |
| Labels | Regain Records |
| Length | 47:16 |
Reviews : 0
Comments : 0
Total votes : 0
Rating : -
Added by

SludgeLeader
Last edited by

SludgeLeader
Angelus Exuro pro Eternus Information
| | Title | Length | Rating | Votes |
| --- | --- | --- | --- | --- |
| 1. | The End of Human Race | 4:43 | - | 0 |
| 2. | The Birth of the Vampiir | 4:50 | - | 0 |
| 3. | Stigmata | 5:06 | - | 0 |
| 4. | My Funeral | 5:30 | - | 0 |
| 5. | Angelus Exuro pro Eternus | 5:04 | - | 0 |
| 6. | Demons of Five | 4:48 | - | 0 |
| 7. | Declaration of Hate | 5:24 | - | 0 |
| 8. | In My Dreams | 6:30 | - | 0 |
| 9. | My Latex Queen | 5:21 | - | 0 |
Emperor Magus Caligula

:

Vocals

Chaq Mol

:

Guitars

Lord Ahriman

:

Guitars

B-Force

:

Bass

Dominator

:

Drums
Production staff / artist
Peter Tägtgren

:

Producer, Engineering, Mixing

Erik Sjölander

:

Recording & Mixing (dvd)

Carlos Aguilar

:

Photography

Lord Ahriman

:

Layout

Daniel Valeriani

:

Artwork, Graphics, Layout

Jonas Kjellgren

:

Mastering

Henrik Wenngren

:

Engineering (dvd)
Additional notes
Release dates:
Europe - November 18, 2009
Brazil - December 22, 2009 (by Paranoid Records)
North America - January 26, 2010

Also contains a video for 'My Funeral'.

Recorded and mixed at Abyss Studio, Sweden, during July-August, 2009.
Mastered at Black Lodge Studios.
Artwork and graphics by Morbid (Daniel Valeriani) / hordeoftheeclipse@hotmail.com.

Photos by Standard Film Team and Carlos Aguilar.

Bonus DVD (limited edition only):
Official music video for "My Funeral"
Live at Peace & Love Festival on June 28, 2008 in Borlänge, Sweden:
01. Intro
02. King Antichrist
03. Diabolis Interium
04. The Secrets of The Black Arts
05. The Arrival of Satan's Empire
06. Goddess of Sodomy
07. 666 Voices Inside
08. Vobiscum Satanas
09. Hail Murder
10. Atrum Regina
11. An Apprentice of Satan
Credits:
Film Production by Year Zero.
Professionally filmed with 6 cameras.
Sound engineering by Henrik Wenngren.
Sound Recording by Erik Sjölander.
Mixed by Erik Sjölander at Studio Wasteland, Uppsala, Sweden.
Pyro by Unique Pyrotechnic, AB.
"My Funeral" video by Standard Film Team, Umeå, Sweden.

The music video for "My Funeral" was shot in and outside an old and closed mental hospital. Uncensored and censored versions of the video exist.